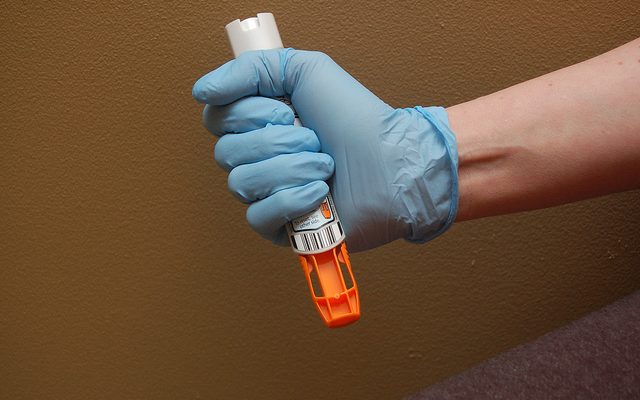 EpiPen Auto Injector Courtesy of [Greg Friese via Flickr]
Society and Culture
EpiPen CEO Heather Bresch is Giving Us Major Martin Shkreli Vibes
By
|
Remember Martin Shkreli? He was the hedge fund manager who bought a life-saving AIDS drug and then raised its price overnight by more than 5,500 percent. Yeah, that dude. Well he's not the only one giving Big Pharma a bad name. Mylan CEO Heather Bresch is the newest pharmaceutical exec to face similar criticism after she struggled to justify hiking the price of the EpiPen by more than 400 percent in the past decade.
Mylan CEO Heather Bresch is in the hot seat over EpiPen price hikes https://t.co/HuKPlKO2G5 pic.twitter.com/fnLFFZU7C6

— Fortune (@FortuneMagazine) August 24, 2016
"No one is more frustrated than me," Bresch told CNBC "Squawk Box" on Thursday when asked to explain the exorbitant price increase and why Mylan can't cut the price of the drug. Bresch tried to argue that the problem isn't with Mylan and other pharmaceutical companies, but rather a broken health-care system that often forces consumers to pay the full retail price for prescription medications.
Bresch explained in a press release,
We recognize the significant burden on patients from continued, rising insurance premiums and being forced increasingly to pay the full list price for medicines at the pharmacy counter. Patients deserve increased price transparency and affordable care, particularly as the system shifts significant costs to them.
A standard two-pack of EpiPens now costs about $600, but in 2009 the cost was only $100. Mylan announced Thursday plans to cover up to $300 of out-of-pocket pharmacy cost through the use of a savings card, reducing patient cost by 50 percent.  Previously, the savings card covered $100. The decision to increase the rebate comes a day after Hillary Clinton called out Mylan to immediately  reduce the price of EpiPens.
While this new increased rebate sounds like a step in the right direction, the drug could still cost hundreds of dollars for patients and their families who are required to replace the allergy medication each year when it expires. And as patients still pay more money, Bresch's paycheck still continues to increase. Her salary went form roughly $2.5 million in 2007, the year of the EpiPen acquisition, to $19 million in 2015.
Bersch acknowledged that high retail prices of EpiPens in the U.S. effectively subsidize the cost of the devices when they are sold in Europe, at just $100 or $150. CNBC notes that many of the countries there have government-run health-care systems that limit drug prices charged by manufacturers, unlike the U.S.
She also repeated several times throughout the interview that Mylan is taking immediate action to help ensure that everyone who needs an EpiPen gets one. "I am hoping that this is an inflection point for this country," Bresch said. "Our health care is in crisis. It's no different than the mortgage financial crisis back in 2007."