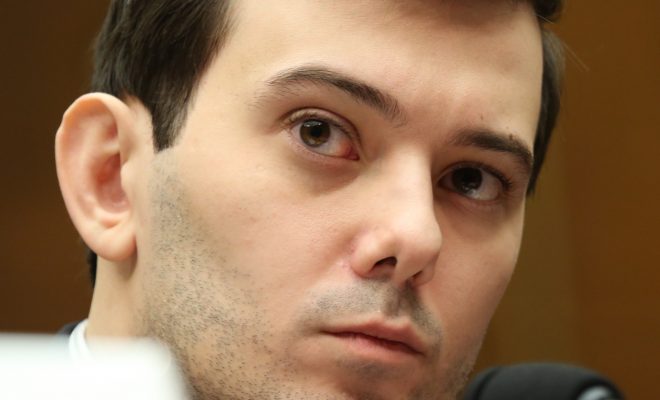 Image Courtesy of House Committee on Oversight and Government Reform; License: Public Domain
Crime
Finding a Jury for Martin Shkreli, the "Most Hated Man in America"
By
|
Martin Shkreli, a.k.a. "pharma bro," definitely lived up to his reputation as the "most hated man in America" on the first day of his fraud trial. More than 120 prospective jurors were dismissed Monday, with some calling him "evil" and a "snake."
Unsurprisingly, many of the jurors were quickly disqualified for criticizing Shkreli's price gouging of AIDS drugs, even though the trial actually has nothing to do with him increasing the price of Daraprim overnight by more than 5,000 percent.
"I think he's a very evil man," said one young woman as she was questioned by Judge Kiyo A. Matsumoto.
One woman even mimicked strangling Shkreli as she referenced him raising the price of "the AIDS drug," according to the New York Times.
"Who does that?" she said. "A person that puts profit over everything else?"
"I looked right at him, and in my head, I said, 'That's a snake'–not knowing who he was," said another woman upon seeing Shkreli in the courtroom. To which Shkreli's lawyer, Benjamin Brafman replied, "So much for the presumption of innocence."
A male prospective juror said, "I have total disdain for the man."
Another man told the judge, "This is the price gouger of drugs." He added: "My kids are on some of these drugs. This impacts my kids."
A third man said, "He kind of looks like a d*ck."
The 34-year-old baby-faced former pharmaceutical exec is on trial in the Federal District Court in Brooklyn for allegedly running an elaborate Ponzi-like scheme at his former hedge fund and a drug company he once headed up.
Prosecutors have accused Shkreli of lying to investors at the hedge fund MSMB Capital Management and siphoning off more than $11 million in assets from his biopharmaceutical company Retrophin to repay them between 2009 and 2014.
In total, Shkreli faces eight counts of securities and wire fraud and a maximum sentence of 20 years in prison. He has pleaded not guilty.
Since first drawing widespread criticism in 2015, Shkreli has appeared to relish in making the world hate him. He spent $2 million on a rare Wu-Tang Clan album, and then subsequently threatened to destroy it. He harassed journalist Lauren Duca until he was banned from Twitter. He even auctioned off the chance to punch him in the face for charity–although one lucky protester managed to pelt him in the face with dog poop for free.
On Wednesday, the judge denied requests to start the selection process over and ban reporters from listening in on sidebars after the defense accused news coverage of tainting the New York jury pool.
She did, however, agree to re-question about 40 people who qualified for the pool to see if they were influenced by the latest wave of publicity for Shkreli. Judge Matsumoto also requested another pool of 60 to 100 potential jurors to be brought to the courtroom on Tuesday, but there's no guarantee they'll hate him any less than the first batch.
The trial is expected to last six weeks, but it's already shaping up to be a rough ride for Shkreli.