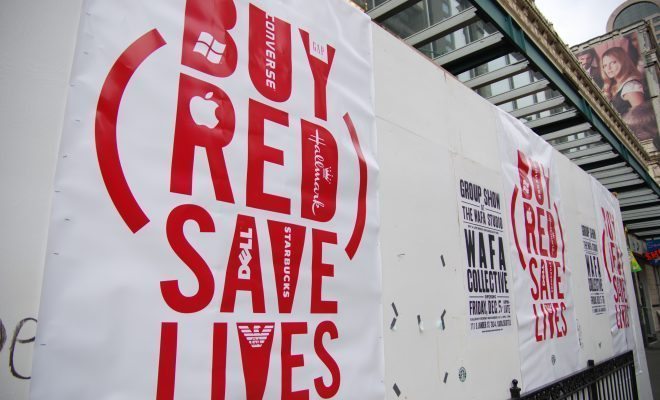 Image courtesy of [Jonathan McIntosh via Flickr]
Society and Culture
Eat (RED): The HIV/AIDS Event That No One Has Noticed?
By
|
Since its inception in 2006, the (RED) campaign has reached across industries to create (RED) products, the sales of which go directly toward funding anti-retroviral treatments. This month, (RED) is launching a new initiative called Eat (RED) that utilizes the tagline "86 AIDS." Eat (RED) involves cooking lessons via Snapchat, an Instagram contest and partnerships with celebrity chefs such as Mario Batalli. The (RED) campaign is looking to engage restaurants, bars, and food trucks in its fundraising drive–whether that engagement will involve drawing attention to HIV/AIDS or donating percentages of certain meals is yet to be determined.
Eat (RED) is an interesting concept, but it is being rolled out as a special event that will last only one month as opposed to a lasting campaign. Whereas (RED) products such as clothing, accessories and headphones have longevity and have continued production over several years, Eat (RED) is a one-off.
Partnering with local restaurants has long been a smart move for regional charities and causes–profit sharing is common practice for several restaurants. Buy a given meal at a given restaurant on a given night and 15 percent of the sale will go to the charity the restaurant has partnered with. However, Eat (RED) has not chosen to center itself on a given city or even a certain group of restaurants.
It is admirable to be open to partners from all over the world but the relaxed nature of the Eat (RED) partnership may be actually hindering the efficacy of the campaign. Eat (RED) asks restauranteurs to contact the (RED) organization if they want to participate but only a handful of restaurants have decided to join in thus far. This does not mean that the (RED) campaign hasn't attempted to recruit more partners but a restaurant's participation in the Eat (RED) campaign is essentially dependent on whether they are on the mailing list for the (RED) campaign or happen to come across the Instagram contest on social media. The restaurants that are participating in the campaign have not necessarily been promoting it actively, so there is no following being built on social media platforms that would alert other restaurants to the campaign's existence. Eat (RED) is an excellent idea, but its execution seems to be falling flat as we move closer to the end of June.
Consider a different color–orange. Last month, on National Gun Violence Awareness Day, groups like Everytown for Gun Safety set out to turn America orange, encouraging people to wear orange, alter their photos to have an orange filter on social media, and even light up buildings with an orange glow. The event was a success largely because it was organized on a local level. Small rallies at transport stations, parks and other public meeting places were compounded into thousands of participants in the day of awareness across the country. Eat (RED) is working for a different cause, with a different set of resources at its disposal, but it should consider taking a page out of Everytown's book. Eat (RED)'s Instagram contest may reach the same popularity as Everytown's orange profile pictures but unless money is being spent, the Eat (RED) campaign may never gain ground as a fundraising campaigns. Organizing small, local events can be much more effective than issuing a blanket invite, therefore Eat (RED) could look to partner with a few restaurants at a time in a single city rather than launching a national campaign. New York and DC already have a Restaurant Week, so why not a (RED) Restaurant Week? The campaign could receive more donations and reach more people if it tackles one city at a time.