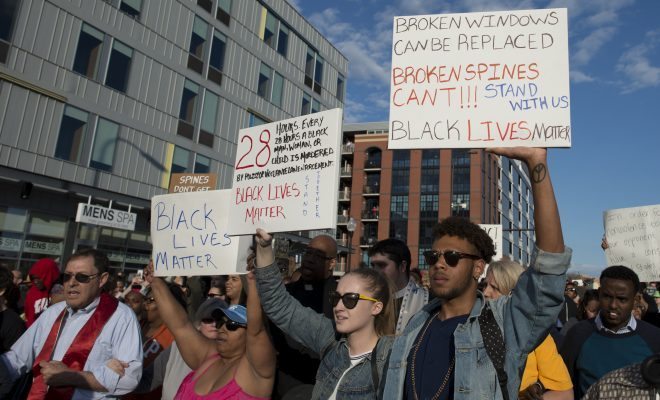 "Minneapolis march to support the people of Baltimore" courtesy of [Fibonacci Blue via Flickr]
Society and Culture
Driver in Freddie Gray Case Found Not Guilty
By
|
Another police officer has been found not guilty on all charges in the death of Freddie Gray. Ceasar R. Goodson Jr. was the third officer out of six to stand trial after the 25-year-old Baltimore man died while in police custody. None of the trials so far have ended in a conviction–a troubling sign for those who hope for justice for the Gray family.
The first trial in the case of Freddie Gray in December 2015 ended in a mistrial due to the jury's inability to deliver a unanimous verdict. In May, the second officer to go to trial was cleared of all charges, including second-degree assault, reckless endangerment, and two counts of misconduct in office.
On Thursday, Goodson–who drove the van that took Freddie Gray to prison–was also cleared of all charges. His charges were the most serious: second-degree murder, manslaughter, assault, reckless endangerment, and misconduct in office.
Freddie Gray was arrested last April after running from officers. The officers found he had a knife on him and placed him in the police van. With feet shackled, hands cuffed behind his back, and no seat belt, he had no chance of holding on during the ride.
The prosecutor claimed that Goodson made a wide turn to intentionally injure Gray. Gray ended up unconscious with a fatal spine injury as well as head injuries in the back of the van, and died a week later. The Judge Barry G. Williams rejected the claim, saying, "The court finds there is insufficient evidence that the defendant gave or intended to give Mr. Gray a rough ride."
The verdict has sparked new life for opinions from the public as well as celebrities.
NO1 KILLED FREDDIE GRAY,
& YET…HE'S DEAD⁉️THERE MUST B DEFINITIVE
DIMENSIONS & DESCRIPTIONS
OF LEGAL KNIFE..WHAT R THEY⁉️WHATS"FUZZINESS"⁉️

— Cher (@cher) June 23, 2016
It is unacceptable that #FreddieGray's death was ruled a homicide & yet no police officer was held responsible. This is happening too often.

— Dr. Jill Stein (@DrJillStein) June 23, 2016
They kill our daddies then make fun of us for being fatherless. #FreddieGray pic.twitter.com/LEHuTZaE0l

— Bipartisan Report (@Bipartisanism) June 23, 2016
How long can we ask our brothers and sisters to be patient when justice for #FreddieGray is not served?

— Susan Sarandon (@SusanSarandon) June 23, 2016
The result of Thursday's verdict also puts increased pressure on Baltimore State Attorney, Marilyn Mosby, who initially promised to bring justice in the case. To charge police officers with murder is extremely unusual. According to NBC, no officer has been convicted for murder or manslaughter in the line of duty between 2005 and 2011. It was seen as a very ambitious move from Mosby.
"If she abandons the prosecution of the four remaining trials, the only interpretation of that is that she has been defeated–certainly that does not bode well politically for her," said lawyer Warren Alperstein to New York Times.
Hopefully Mosby succeeds in bringing some justice for the people of Baltimore, and in doing so, sets an example for the future of police conduct.