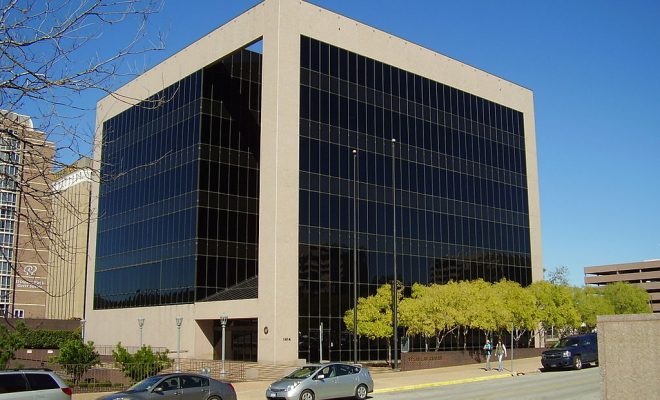 Image courtesy of WhisperToMe; License: Public Domain
Law
Houston Judge Suspended for Buying Drugs and Prostitutes, Sexting Her Bailiff
By
|
A Houston judge was suspended from her job on Friday amid accusations that she solicited prostitutes, sexted from the bench, and used her bailiff to buy drugs.
Hillary Green, who has been a judge since 2007, presided over misdemeanors, traffic cases, and civil suits for Harris County Precinct 7. Her lawyer called the decision "frustrating and surprising" in addition to arguing that many of the accusations were already public when Green was reelected with 86 percent of the vote.
She will remain suspended until a civil trial is held to make a final decision, but her lawyer said that trial could be years down the line and another judge is already slated to replace her, according to the Washington Post.
Accusations against Green first arose during her divorce from Houston Controller Ronald C. Green in 2015. It was at that point that Green said his now ex-wife "operates daily with impaired judgment as evidenced by her presiding over cases in which she has ongoing sexual relationships with litigants and witnesses," according to the Houston Press.
Suspicions rose further when Claude Barnes, who Green admits she had an affair with for many years, came forward with allegations regarding drug use and hiring prostitutes for threesomes.
"The three of us sat," Barnes said. "We smoked marijuana. We had a couple drinks and then three of us had sex."
These accusations led the Texas Commission on Judicial Conduct to file its first formal inquiry into the Houston judge's behavior, an investigation that culminated in a 316-page recommendation to suspend her that was released this year. Executive Director Eric Vinson said that the commission has been investigating Green for almost four years and that in his decade in that role he has never seen a judge contest proceedings this strongly, according to the Houston Press.
The commission took note of Green's inability to change her behavior over a five-year span and called out Green's "outright betrayal of the public's trust" in the report.
Other stories allege Green and Barnes smoked marijuana that was confiscated from a citizen, bought cough syrup from a drug dealer named "lover boy," and that she texted her bailiff about explicit sexual acts that she would perform with him later.
Green admitted to buying $500 worth of cough syrup and smoking marijuana daily, but denied hiring prostitutes. In addition to smoking weed and drinking the syrup, she and Barnes took ecstasy on multiple occasions, but Green denies paying for it. So, even though she was sentencing people for committing minor drug offenses, Green frequently undertook similar behavior, according to the report's findings.
Disgusted with her behavior, the commission asked the Texas Supreme Court to suspend Green while officials prepared their case to permanently remove her. The state bar wrote in May:
To this day, Judge Green has apparently made no attempt to reassign the bailiff with whom she actively participated in an inappropriate sexual texting relation and whom she recruited to assist in illegal drug activity. She engaged the services of a peace officer to commit a criminal act, and indeed he was apparently willing to do so. Incredibly, Judge Green sees nothing wrong with the arrangement.
Green and her lawyers countered that the allegations are the result of a bitter divorce and that Ronald Green could have stolen her phone and sent some of those text messages. They also argue that the accusations were improperly filed, creating a bureaucratic legal issue. Still, there is already ample evidence that the judge crossed several lines.
Even if some of the allegations aren't true, Green has already admitted to multiple acts that would break the Code of Conduct for United States Judges. The code explicitly states that appropriate action must be taken if a judge is impaired by drugs and that judges must maintain professional relationships with their staff.
Though Green's civil trial is over a year away, she will almost surely not be reinstated from her suspension with the concrete evidence the bar association already has. Green, who was once part of a powerful political marriage with Ronald, has now had a meteoric fall from grace.