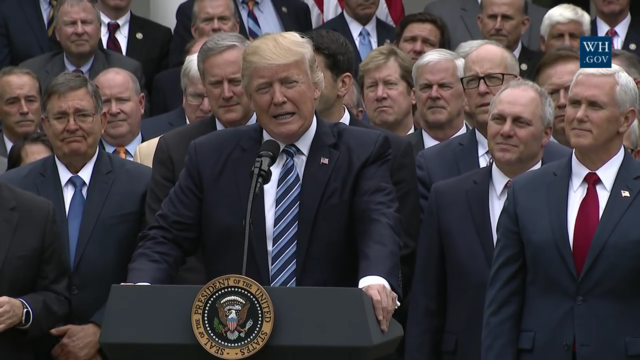 Image courtesy of the Executive Office of the President of the United States; License Public Domain
Society and Culture
Crowdfunding Sites Could Benefit Immensely from the AHCA
By
|
The Congressional Budget Office announced in March that the American Health Care Act, the measure created to dismantle the Affordable Care Act that Senate Republicans worked to fast track their own version of on Thursday, will cause the number of uninsured Americans to increase by 14 million in 2018, nearly doubling the figure from 2015. While we don't know yet what the Senate version will look like, it's likely that millions will lose their insurance. Among those that have been preparing for the drop since then are crowdfunding platforms such as GoFundMe and YouCaring.
"Whether it's Obamacare or Trumpcare, the weight of health-care costs on consumers will only increase," Dan Saper, chief executive officer of YouCaring, told Bloomberg. "It will drive more people to try and figure out how to pay health-care needs, and crowdfunding is in its early days as a way to help those people."
Sites have seen increases in the number of medical-related fundraisers and donations over the past few years, to the point where that category makes up a significant portion of both sites. In 2015, GiveForward, which was recently acquired by YouCaring, reported that almost 70 percent of all its fundraising campaigns were medical, averaging a fundraising goal of $7,500 per campaign.  Since 2010, GoFundMe has raised over $2 billion on its site and $930 million went to medical campaigns.
While some may find the American reliance on crowdfunding to pay off medical expenses to be troubling, GoFundMe CEO Rob Solomon finds it industry-defining. He has said that medical fundraising "helped define and put GoFundMe on the map" and helped accomplish the goal of becoming a "digital safety net."
That safety net might need to grow wider because of the AHCA's Medicaid plans. Preliminary results of a study done through the University of Washington/Bothell found that most personal medical fundraisers done through GoFundMe came from people living in states that chose not to expand Medicaid under the ACA, like Texas. The Huffington Post reported that even moderate Republicans are backing provisions that would eventually cut off federal matching funds for the law's Medicaid expansion, which 31 states have taken advantage of.
This applies to more than just those who receive insurance through Medicaid, however. According to an NPR, Robert Wood Johnson Foundation, and Harvard T.H. Chan School of Public Health study, 26 percent of adults in the U.S. said they have serious financial problems due to health care costs, with 44 percent of them having to set up a payment plan with their provider. Additionally, the Kaiser Foundation found one in five of all working-age Americans with insurance reported having problems paying medical bills.
Saper believes in the potential of this safety net. He stated that medical crowdfunding is "highly, highly scalable and has a ton of runway. The growth rate of the industry is showing that this can absolutely be an impactful safety net for a lot of individuals and communities to help each other."
But the current crowdfunding model has repeatedly proven that it is far from equipped to handle the campaigns of every person who could use one. Just over one in 10 health-related online campaigns reached their goal, according to a study at NerdWallet, and the study done at Bothell found that 90 percent of the campaigns they followed failed to reach their goal, only reaching 40 percent of what they asked for on average.
Dr. Edward Weisbart, who chairs the Missouri chapter of Physicians for a National Health Program, mentioned that a lot of these missed goals can be attributed to a sort of fatigue donors feel over time as they receive more and more requests to donate.
"When you get your first request, you probably give a high amount. But as you get besieged and realize how common these requests are, donations will go down. We can't keep on giving to everyone who asks," she said to Bloomberg.
Even when people do give, they're more likely to give to the campaigns with stories that touch our hearts or are just outright extraordinary, according to the creator of GoFraudMe, a website that exposes fraudulent campaigns on GoFundMe, Adrienne Gonzalez. For example, two of the "most active" campaigns on Generosity.com are one raising money for a woman who was struck by lightning, and one for a woman hoping to cover "co-pays, travel expenses, food, lodging, essentials" as she takes care of her 19-year-old daughter who is awaiting a kidney transplant.
What this could create is droves of uninsured individuals all vying for donations toward their medical expenses, hoping that their story wins in a competition of moral equivalency in the minds of donors. As dystopian as this sounds, this would not necessarily be the worst scenario for crowdfunding sites. GoFundMe receives 7.9 percent for donation and processing fees, plus 30 cents per donation, according to its website, meaning it has received $158 million in revenue from its total donations, and just under $75 million from medical campaigns alone.
Saper is well aware of these figures and seemingly sees that there's profit in helping people raise money for their medical expenses.
"We rely on voluntary contributions from donors [to run the company], so our big thrust now is how do we get the word out about it," he said. YouCaring has ramped up its marketing and operations teams in preparation for a new wave of customers that will use that site as a platform to broadcast their need for help paying medical bills because the system in place will soon abandon them, if it hasn't already.