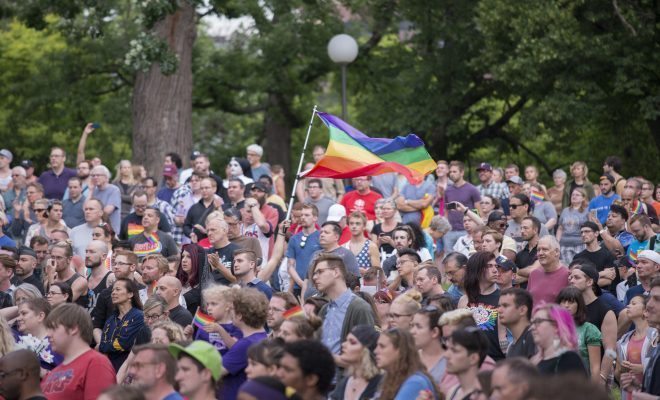 Image Courtesy of [Fibonacci Blue via Flickr]
Society and Culture
Church Asked to Move After Offensive Sermon Goes Viral
By
|
"I think Orlando, Florida, is a little safer tonight…The tragedy is more of them didn't die…I'm kind of upset he didn't finish the job!"
Those were the words preached by Verity Baptist Church Pastor Roger Jimenez to his congregation in Sacramento, California, in the wake of the Orlando shooting, the worst mass shooting in U.S. history.
Sacramento pastor says Orlando nightclub shooter should have killed more gay people https://t.co/HFXkbES4ZK pic.twitter.com/EMGpvVp5uD
— Matthew Keys (@MatthewKeysLive) June 14, 2016
As a result of Jimenez's sermon, the church's landlord is respectfully asking it to leave. Harsch Investment Properties indicated to the church that it would not be renewing its lease in March 2017, and asked the church to consider moving out of the Northgate Business Park prior to that date with no penalty.
Harsch released a statement detailing its decision and the reasoning behind it.
"Like all Americans, we grieve for the fallen and injured," the statement said. "In the 66 years since our company was founded, we have stood for the rights of all individuals, regardless of race, religion, gender or sexual orientation, to live their lives and follow their dreams."
The Verity Baptist Church gained widespread attention after its June 12 sermon was posted online, where Jimenez celebrated the 49 tragic deaths at the Pulse nightclub in Orlando. His statements generated anger and prompted protests on Sunday, June 19.
TEACH LOVE NOT HATE – what protestors at Verity Baptist Church chanting as church goers leave the service @FOX40pic.twitter.com/1EUpyNxIHE

— Sara Zendehnam (@szendehnam) June 19, 2016
Harsch asked that the protests be peaceful and that protestors make sure to have the proper permits and be respectful to the other tenants in the business park.
"We have many places of worship and other religious organizations in the properties we manage," the statement said. "Like all our tenants, their occupancy rights are protected in their leases, but we will not tolerate tenants who advocate hatred and the taking of innocent lives."
Jimenez told The Sacramento Bee that his sermon was not meant to incite violence against the LGBT community.
"All I'm saying is that when people die who deserve to die, it's not a tragedy," Jimenez told The Bee.
His comments received backlash from Sacramento Mayor Kevin Johnson.
The hateful comments made by a preacher in Sacramento do not reflect Christian values and have no place in our society. #standwithorlando

— Kevin Johnson (@KJ_MayorJohnson) June 14, 2016
A group of 700 pastors known as the Sacramento City Pastors Fellowship issued a statement regarding Jimenez's comments, according to The Sacramento Bee, saying:
These comments, applauding the death of innocent people, are completely contrary to the Bible's teaching and God's heart…His statements do not represent Jesus nor hundreds of Sacramento pastors whose hearts have been broken and are praying for the loved ones so tragically affected by this cowardly act.
The church has not indicated whether or not it will be moving.