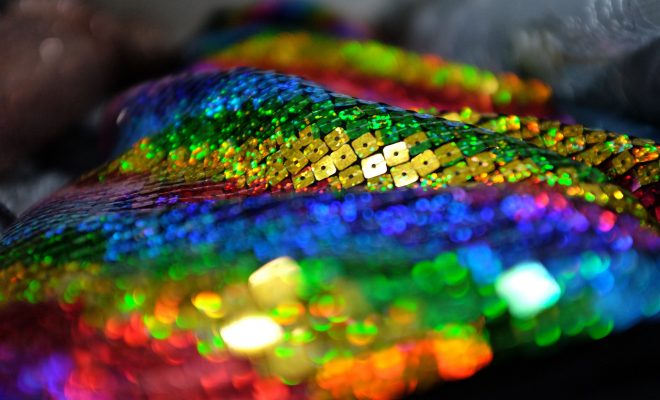 "Sparkle" courtesy of Peter Burka; license: (CC BY-SA 2.0)
Society and Culture
Christian Groups Show Solidarity With the LGBTQ Community Using Glitter
By
|
Yesterday was Ash Wednesday, which marks the beginning of Lent, the season of fasting and prayer in the Christian faith. To symbolize this, some Christians have ashes in the shape of a cross drawn on their foreheads. But this year, after a turbulent election season and uncertainty about what the future will look like for many minority groups, a faith-based organization in New York City that supports the LGBTQ community will mix its ashes with purple glitter.
"For me, glitter and ashes is the hope I feel in the resurrection of Christ," said Reverend Marian Edmonds-Allen, who is executive director of the group Parity. The team behind the event, which goes under the name "Glitter+Ash Wednesday," encourages churches across the country to do the same, as lesbian, gay, bisexual, transgender or queer people have historically been unwelcome in churches.
Glitter ashes in solidarity with queer community in Hamp on Ash Wednesday. I got some. pic.twitter.com/V7Bn6unQFR

— Monte_Belmonte (@MonteBelmonte) March 1, 2017
But this modern take on a Christian tradition had some people seeing red. Jacob Lupfer, a columnist for Religion News Service in Maryland, doesn't think this will lead to anything good. "Christianity is already divided, and now it's along pro- and anti-gay lines," he said. "It's liturgically inappropriate to tamper with such an ancient and solemn rite."
A Chicago Reverend, Donald Senior, agreed: "If you start changing its meaning, some are going to feel this is a political statement," he said of the religious act, and added that it is a ritual that should be handled with a lot of respect.
Last week, the Trump Administration revoked guidelines from the Obama Administration allowing transgender students to use the bathroom that corresponds with their gender identity. The decision caused protests across the country, including at the legendary gay bar Stonewall Inn in New York.
Encouraging to see such a large turnout concerned for the safety of trans youth. Must continue to show up & resist to protect #transrights. pic.twitter.com/FEI6jdvsvZ

— Susan Sarandon (@SusanSarandon) February 24, 2017
"Right now there are people in this country that feel threatened that their very presence should not be in public spaces," said April Gutierrez, a pastor in Chicago who will also participate in the Glitter+Ash Wednesday.
But, there are many Christians who are progressive and want to show people from the LGBTQ community that they are accepted and loved. The author of "Queer Virtue", Reverend Elizabeth M. Edman, said that the glitter is not meant to be disrespectful. For LGBTQ people, glitter often symbolizes the process of coming out and can be a very serious thing. To those that believe the glitter only means frivolity or party, she said, "It matters to understand that queer people understand very much the life-and-death aspect of Ash Wednesday. Some people hear glitter and think it's frivolous. For queer people, glitter is serious business."