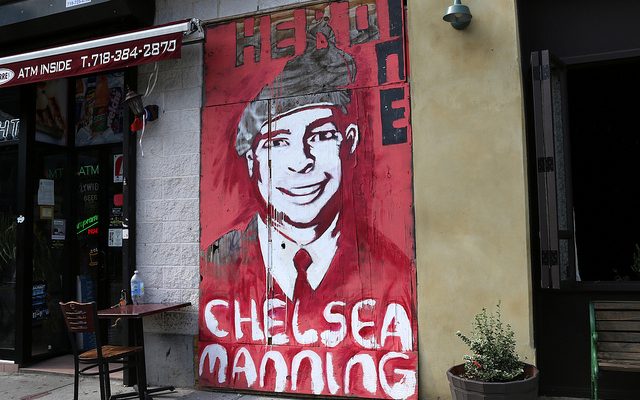 "Chelsea Manning mural" Courtesy of [Timothy Krause via Flickr]
Society and Culture
Chelsea Manning Ends Hunger Strike to Receive Gender Transition Surgery
By
|
Chelsea Manning, the transgender whistleblower imprisoned for leaking classified government documents to Wikileaks, ended her hunger strike on Tuesday after the U.S. Army agreed to allow her to undergo gender transition surgery to treat her gender dysphoria.
According to the American Civil Liberties Union (ACLU), Manning, who is a transgender woman, began the hunger strike on September 9 to demand the "medically necessary and recommended treatment" for her disorder.
"This is a monumental day for Chelsea, who can now enjoy some peace knowing that critically needed medical care is forthcoming," said ACLU attorney Chase Strangio. "This medical care is absolutely vital for Chelsea as it is for so many transgender people–in and out of prison–who are systemically denied treatment solely because they are transgender."
The former U.S. Army soldier is currently serving a 35-year prison sentence for espionage at Fort Leavenworth, an all-male Army prison in Kansas, after providing hundreds of thousands of documents to Wikileaks while working as an intelligence analyst in Iraq.
Her lawyers claim that while she's been at Fort Leavenworth, army officials have subjected Manning to long stretches of solitary confinement and forced her to cut her hair to "male hair length standards"–which does not reflect her gender identity. Manning claims that the lack of care for her disorder contributed to her suicide attempt in July.
In 2014, Manning filed a lawsuit against the Department of Defense so she could grow her hair out, use cosmetics, and receive hormone treatment to in order to express her female gender. The Army eventually agreed to allow her to receive hormone therapy, but it refused to allow her to groom as a woman.
In April 2016, Manning's psychologist recommended she undergo gender transition surgery as part of her treatment. The Army's decision to proceed with Manning's treatment will make her the first transgender inmate to undergo the surgery while in prison.
Manning gave the following statement to the ACLU:
I am unendingly relieved that the military is finally doing the right thing. I applaud them for that. This is all that I wanted–for them to let me be me. But it is hard not to wonder why it has taken so long. Also, why were such drastic measures needed? The surgery was recommended in April 2016. The recommendations for my hair length were back in 2014. In any case, I hope this sets a precedent for the thousands of trans people behind me hoping they will be given the treatment they need.
After news broke of the Army's decision, social media critics came out in droves to condemn the use of  taxpayers' money on the surgery.
Why exactly are tax payers footing the bill for Chelsea Manning's surgery and temper tantrum?

— Tawnie (@Tawnie) September 14, 2016
How is it that "Chelsea Manning" gets a gender-change operation on the tax-payers dime? How is that appropriate use of tax-dollars?

— Greg Granger (@BattleCoachella) September 14, 2016
The Daily Beast, however, argues that if you're ok with prisoners receiving antidepressants, you shouldn't get worked up over Manning's medical treatment. Both hormone treatment and gender reassignment surgery can be deemed medically necessary to treat individuals with gender dysphoria or gender identity disorder.
"Thankfully the government has recognized its constitutional obligation to provide Chelsea with the medical care that she needs and we hope that they will act without delay to ensure that her suffering does not needlessly continue," said the ACLU.