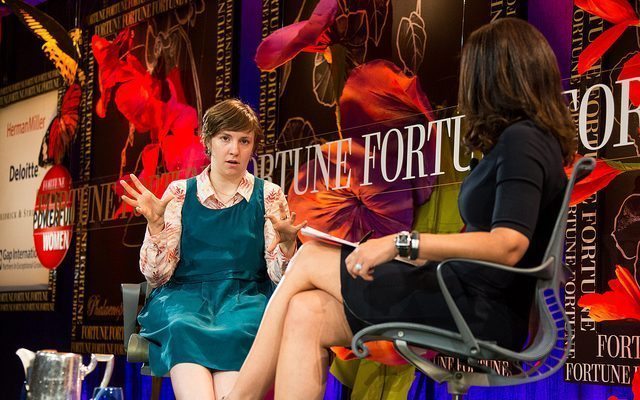 "Fortune Most Powerful Women 2012" Courtesy of [Fortune Live Media via Flickr]
Society and Culture
Cast of "Girls" Unites to Send Powerful Message About Sexual Assault
By
|
Yesterday we went through the five reasons why people are protesting the Brock Turner's sentence, the 20-year-old former Stanford swimmer who was sentenced to six months in jail after he sexually assaulted an unconscious woman last year. Now it seems that civilians aren't the only ones speaking out against the case and rape culture–celebrities are too.
Lena Dunham, who is the creator, writer, and star of the HBO series "Girls," tweeted out Wednesday a video featuring her and few of her fellow female cast mates discussing sexual assault in dedication to the survivor of the Stanford case.
I dedicate this to the brave survivor in the Stanford case who has given so much to change the conversation. https://t.co/KMOJUxvPu0

— Lena Dunham (@lenadunham) June 8, 2016
In the compelling Now This video, Dunham along with Allison Williams, Jemima Kirke, and Zosia Mamet explained that despite their differences, they are all in agreement when it comes to the issue of sexual assault.
Their message was simple–support, listen, and take action.
In the video, the women also offered the following three statistics on sexual assault:
One in five women will be sexually assaulted in their lifetime.
80 percent of those attacks will be committed by someone they know.
One in four girls will be sexually abused before the age of 18.
They also didn't hesitate to recognize their own privilege in the video, stating,
While its just the four of us here right now, we hope to represent the solidarity and support all survivors should be able to find. Which may be the first time that four white women can accurately represent anything.
Following the video's release, people began using the hashtag #SheIsSomeone on social media to express their support for the Stanford victim, and other victims like her who have suffered from sexual assault as well as victim blaming.
A friendly reminder that sexual assault & rape is wrong because #sheissomeone and we all deserve safety and respect. https://t.co/j4XKxcKzUa

— Kelly Roskam (@KellyEWRoskam) June 9, 2016
People all over the world are coming together to support this girl and it's amazing. #SheIsSomeone

— Emily (@emilyhawkkins) June 9, 2016
Not because she's someone's daughter
Not because she's someone's girlfriend
But because #SheIsSomeone

— Tessa (@GonceTessa) June 9, 2016
Dunham, who is an outspoken feminist, has publicly supported many women's issues in the past, and even created an online feminist newsletter titled Lenny Letter in an effort to continue raising awareness on other issues plaguing women today.
So for all the women out there, I'd like to extend a big "thank you" to the cast of "Girls" for speaking out on this issue and helping to educate more women and men on how they can help support victims of sexual assault.
For more on the Stanford sexual assault case and Brock Turner's sentencing read our original article here.