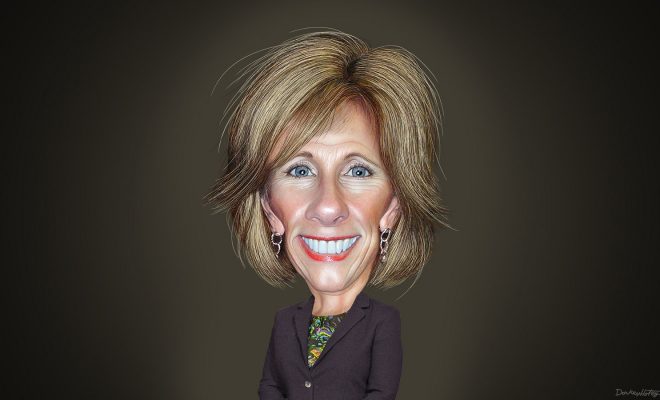 "Betsy DeVos - Caricature" Courtesy of DonkeyHotey: License (CC BY-SA 2.0)
Society and Culture
Betsy DeVos is Now "The Problem We All Live With"
By
|
Over the past couple of days, we have seen a few people who should be doing about 100,000 percent less. Among these people are Cee Lo Green at the Grammys, Stephen Miller, the Twenty One Pilots guys, and every person involved with the making of "Fifty Shades Darker." Now we can add conservative cartoonist Glenn McCoy to those ranks.
On Monday, the Belleville News- Democrat, a newspaper based in southwest Illinois, published a McCoy cartoon in their Opinion section that drew parallels between the tough time our new Secretary of Education Betsy DeVos is having, and an iconic moment during the Civil Rights Movement, because that makes sense, right?
The reference: Norman Rockwell's 1964 painting, 'The Problem We Live With' pic.twitter.com/D1wvtyIz5Z

— Philip Lewis (@Phil_Lewis_) February 14, 2017
If it has been a while since you've taken APUSH, let me remind you what's going on in this cartoon. Norman Rockwell's "The Problem We Live With" depicts Ruby Bridges who, during desegregation in New Orleans, was escorted by three U.S. Marshals to and from her all-white school to protect her from angry protesters.
McCoy's cartoon seems to suggest that the public criticism that DeVos has faced before and since her nomination is the exact same thing, or, at the very least, similar to what Bridges endured. In the cartoon, McCoy replaces the N-word and "KKK," which are written on the wall that Bridges is walking past in the original painting, with "Conservative" and "NEA" (National Education Association), respectively.
DeVos gained sympathy from Trump for the particularly rough confirmation process she faced. DeVos endured a bruising Senate confirmation hearing, where her lack of knowledge about public school education and fear of grizzly bears were exposed. Nonetheless, DeVos was confirmed as education secretary last Monday, but only after Vice President Mike Pence cast a historic vote that broke a 50-50 vote tie in the Senate. Since becoming education secretary, DeVos has been relentlessly mocked for her tweets and blocked by protestors from entering a D.C. public school.
Lets compare and contrast: Bridges was six years-old when she began to attend William Frantz Elementary school as its only African-American student, and had to endure the racist chants from protestors when she entered and exited the school doors. Bridges was also the only student in her classroom for awhile, because the parents of her white classmates withdrew their children from the school. All of the teachers except for one refused to teach Bridges. Her family endured backlash as well. This all happened simply because she was a black girl trying to go to school. So, as you can see, there are many parallels between DeVos and Bridges.
You can check out more of McCoy's cartoons here.