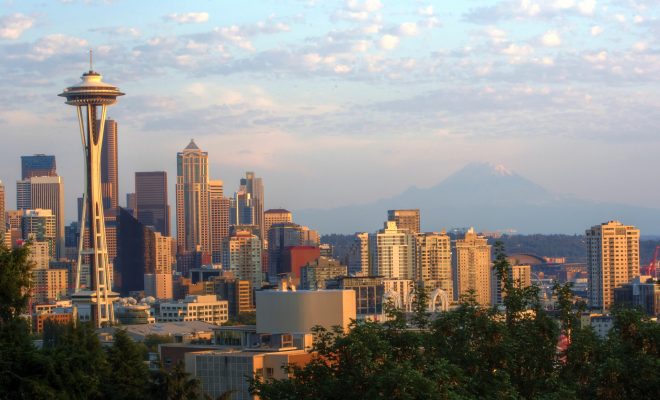 "Seattle Skyline" courtesy of Maëlick; license: (CC BY-SA 2.0)
Society and Culture
Amazon's New Building in Seattle will Include a Homeless Shelter
By
|
Amazon says it will let a homeless shelter move into one of its new buildings in Seattle once the construction is completed. The company initially allowed the shelter to temporarily move into a motel on one of its properties, but now the retail giant proposed a long-term solution.
The original deal was for the organization, Mary's Place, to stay in the motel until it was time to tear it down and start construction on the new building. But in a generous arrangement that was announced on Wednesday, Amazon said it will make room for Mary's Place in one of its new buildings and that the solution will be "permanent."
This is a huge deal for the nonprofit, which turns unused buildings into temporary shelters and has had to move around frequently. The new space will consist of 47,000 square feet and will be able to house 220 people. Amazon will pay for the design and construction of the building. It will also pay all utilities, and let Mary's Place stay there rent-free.
What the homeless shelter in Amazon's building will look like. Occupies half of shorter Amazon building on right https://t.co/B5JHJopYxD pic.twitter.com/nZEPUKWDS5

— Nick Wingfield (@nickwingfield) May 10, 2017
Amazon itself has faced criticism for how it treats its warehouse workers due to the seasonality of its business, with the sales volume increasing significantly around the holidays. This means Amazon employs a large number of people in the last quarter of the year. The pay for short-term workers is low, starting at around $10 an hour, and there is no job security or benefits. After the holidays, seasonal workers lose their jobs and can't apply for an Amazon position again until after a year.
For people struggling to make ends meet, or those who live in a homeless shelter, seasonal employment is a difficult problem. Often, when they get a job, they move out of the shelter and try to find a more permanent solution too quickly. Many run out of money when they are let go from the temporary job and have to go back. It's hard to break the cycle of homelessness.
Seattle has also had a particularly bad homelessness problem. In 2015, the situation became so bad that the mayor declared a state of emergency in the city. That year, more than 45 people died on the streets, and almost 3,000 children attending public schools were homeless. Last year, the number of homeless people in the area exceeded 10,000, of which about 4,500 lived on the streets, according to numbers from the Seattle/King County Coalition on Homelessness.
The crisis has been blamed on the heroin epidemic, job losses after the Great Recession, and inadequate means to treat people with mental illnesses. The city also receives less money for affordable housing from the federal government than in previous years. Many people sleep in tents along the road or below highway overpasses.
The people working at Mary's Place are relieved to finally have a permanent spot. "I see it as this huge gift because everywhere we go, we end up leaving," said Marty Hartman, executive director of the shelter. Amazon's vice president for global real estate and facilities, John Schoettler, said that this is an investment in the neighborhood. Amazon also has a bigger responsibility than before; nowadays it has 30,000 employees in Seattle, which makes it the biggest private employer in the city.