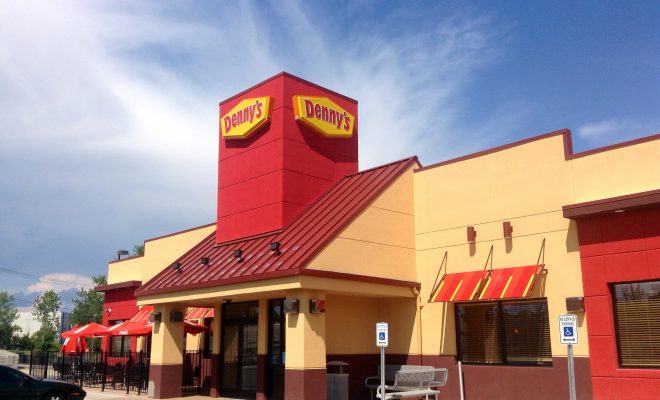 "Denny's" courtesy of Mike Mozart; license: (CC BY 2.0)
Crime
Texas Deputy and Husband Indicted in Denny's Chokehold Death
By
|
A Texas sheriff's deputy and her husband have been indicted on murder charges after choking a man to death outside of a Denny's restaurant in the Houston area last month.
John Hernandez was confronted by the couple just after 11 p.m. on May 28 for urinating outside of a Denny's restaurant in Northeast Harris County after a dinner with his family.
Terry Thompson, 41, put Hernandez in a chokehold and pushed him to the ground. His 45-year-old wife, Chauna Thompson, an off-duty Harris County sheriff's deputy, helped pin him down.
When the couple noticed Hernandez wasn't breathing, they finally let go and he was rushed to the hospital–but it was too late. The 24-year-old father of one was put on life support and died the following week.
The choking took place in front of Hernandez's shocked wife and young daughter, who reportedly was screaming, "Quit hitting my daddy."
On Thursday, the Thompsons were indicted on murder charges and they face life in prison if convicted. The charges came a day after protesters held a rally and a march in support of Hernandez's family to demand justice. One group organized a sit-in at the sheriff's office.
Tensions were high the entire week leading up to the indictments after a cellphone video of the altercation was circulated on social media.
John Hernandez was clearly attacked by the husband of a Harris County Deputy. This man needs to be held accountable. pic.twitter.com/QNf6I3TVip

— Alexis Isabel (@lexi4prez) June 5, 2017
According to Terry Thompson's lawyer, Scott Courtney, the indictment was rushed due to public pressure. Courtney said Hernandez attacked Thompson first, and that the chokehold was self-defense.
"It's disappointing that citizens can simply march on the courthouse and demand somebody be indicted for murder," he said.
But District Attorney Kim Ogg didn't buy it. In a statement, she said:
We grieve with the Hernandez family. We believe that this grand jury true-bill is a reflection of our community's belief that a crime occurred and that crime was murder–and that it was participated in by Terry Thompson and his wife, Deputy Chauna Thompson.
Family of #JohnHernandez says their "faith has been restored" after indictments of Chauna and Terry Thompson. #abc13 pic.twitter.com/ySIxIZ2uNp

— Pooja Lodhia (@PoojaOnTV) June 8, 2017
Randall Kallinen, an attorney for the Hernandez family, said Hernandez's wife was put in a police car for four hours after the incident, as if she were a suspect. She also had her cellphone taken away by deputies at the scene.
Melissa Trammell, a Denny's employee testified that she had witnessed the incident. "The man was turning purple,"said Trammell. "We begged him to get off the man and he wouldn't."
Trammell testified that she tried to reason with Thompson, but instead he looked her in the face and said, "I'm not getting off him."
Chauna Thompson and her husband were both offered the opportunity to testify, but declined.
Even with the indictments, the Hernandez family worries that the Thompsons may receive a more lenient treatment because of the wife's position. Prosecutors, however, say they will show no favoritism in the case and will "let the chips fall as they may with the grand jury."