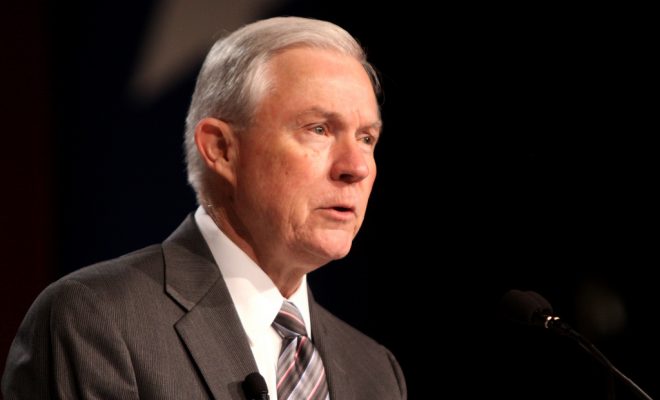 Image Courtesy of Gage Skidmore; License: (CC BY-SA 2.0)
Crime
Sessions Undermines Bipartisan Push for Criminal Justice Reform
By
|
A years-long, largely bi-partisan effort to reform the criminal justice system in the U.S., the world's preeminent jailer, is being undermined by Jeff Sessions. On Friday, the attorney general issued a memo directing federal prosecutors to "charge and pursue the most serious, readily provable offense," with the "goal of achieving just and consistent results in federal cases."
Sessions' memo, issued after weeks of harsh-on-crime rhetoric, effectively reverses a 2013 memo issued by then-attorney general Eric Holder, which directed prosecutors to take a case-by-case approach, and to seek the toughest sentences only for violent offenders. The memo returns the Justice Department to a sentencing approach similar to the one taken by the George W. Bush Administration.
"This is a key part of President Trump's promise to keep America safe," Sessions said on Friday, after releasing the short memo to the public. "We know that drugs and crime go hand in hand," he said. "Drug trafficking is an inherently violent business." Sessions, who spent the height of the 1980s crack epidemic as a prosecutor, added U.S. attorneys "deserve to be un-handcuffed and not micromanaged from Washington."
According to the Coalition for Public Safety, an organization that partners with both progressive and conservative groups to push criminal justice reform, there are upwards of two million people incarcerated in the U.S., a 500 percent increase over the past 30 years. One quarter of the world's entire prisoner population is in the U.S. In a statement in response to Sessions' memo, the group's president Steve Hawkins, along with U.S. Justice Action Network's Holly Harris, said:
Research has shown, time and again, that lengthy prison terms for lower-level offenders do not increase public safety. Federal prosecutors have a responsibility to enforce the law firmly, but need the flexibility to do so in ways that will best serve their communities and protect public safety. That's why we have and continue to support congressional efforts to reform sentencing.
"Locking up people who don't pose a threat to public safety is a waste of taxpayer money and law enforcement resources, and it doesn't deter crime," they added. Congress failed to pass a bipartisan reform bill last year, despite widespread support, and now, with the Justice Department's shift in tone and official policy, a federal effort is less likely. States, even Republican bastions with high prison populations, are now leading the charge to reform how non-violent drug offenders are punished and treated.
While there are some Republicans who oppose a more lenient approach to incarceration, many prominent Republican senators–and activists like the Koch brothers–back reform. Sen. Mike Lee (R-UT), a prominent conservative advocate for criminal justice reform, wrote on Twitter on Friday: "To be tough on crime we have to be smart on crime. That is why criminal justice reform is a conservative issue"
Sessions' memo does allow for "circumstances in which good judgement would lead a prosecutor to conclude that a strict application" of the new policy is "not warranted." Holder, who was the attorney general from 2009 to 2015, responded to Sessions' directive in a statement. "This absurd reversal is driven by voices who have not only been discredited but until now have been relegated to the fringes of this debate," he said.