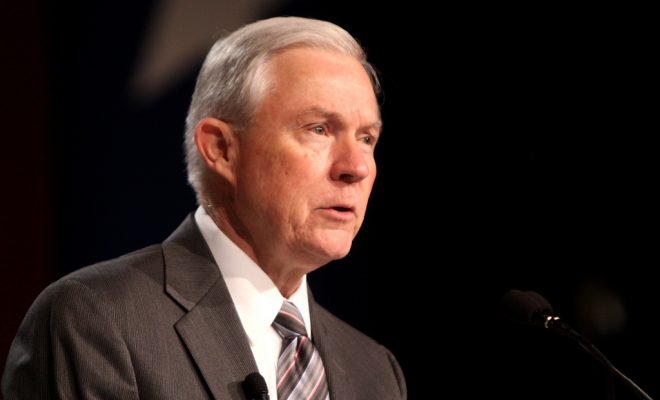 "Jeff Sessions" courtesy of Gage Skidmore; License (CC BY-SA 2.0)
Crime
Sessions Narrows Funding Threat to Sanctuary Cities
By
|
Attorney General Jeff Sessions recently reduced the scope of his threat to withhold funding from sanctuary cities, narrowing the focus to a set of grants made by the Justice and Homeland Security departments. This is the latest development in an ongoing dispute that dates back to President Donald Trump's fifth day in office.
Sessions issued the new guidance in a memo to the grant-making components of the Department of Justice. He outlined what will constitute a sanctuary city for funding purposes and explained which grants these cities could risk losing. This stems from an executive order signed by Donald Trump on January 25 titled, "Enhancing Public Safety in the Interior of the United States," which is currently tied up in a legal challenge. The original order threatened to withhold all federal funding, while this most recent memo indicates that it might only affect a relatively small number of grants.
In April, a federal judge blocked a central part of the executive order, prompting President Trump to criticize the ruling and vow to take the issue to the Supreme Court. Judge William Orrick, a district court judge in San Francisco, issued an order in favor of Santa Clara County and the City of San Francisco, both of which challenged the order, arguing that withholding all funding from sanctuary cities was clearly unconstitutional.
The new memo may be a response to this ruling, which referenced past opinions to show that the executive branch does not have unilateral authority to revoke funds or use them to coerce state and local governments. While courts have upheld efforts to attach strings to grant funding, those conditions typically need to be related to the purpose of the grant, and it is usually Congress, not the executive branch, that sets these conditions. For example, courts have said that Congress can condition a portion of highway funding on local drinking age laws because the two are related.
There is no agreed-upon definition for what a sanctuary city is, but the general idea behind the term applies to local governments that limit cooperation with federal immigration officials. When it comes to grant funding, the government has chosen a fairly narrow definition. In fact, Attorney General Sessions' memo specifically says that willful non-compliance with one specific statute is what will be used to determine sanctuary status.
That statute, 8 U.S.C. § 1373, specifically deals with communication between local governments and federal immigration authorities. It prohibits local governments from blocking or limiting the ability of local officials or agencies from communicating with immigration agents. In April, Sessions notified nine local governments that their laws potentially violate the statute and threatened to withhold Justice Assistance Grant funding if they don't provide proof of compliance by the end of June.
In the most recent memo, Sessions narrowed his interpretation of the executive order to "be applied solely to federal grants administered by the Department of Justice or the Department of Homeland Security, and not to other sources of federal funding." He also notes that this condition will only apply to grants from the Office of Justice Programs and the Office of Community Policing Services, departments where compliance with Section 1373 is a condition.
In his ruling, Judge Orrick notes that both Santa Clara County and the city of San Francisco get a large portion of their overall funding from the federal government, most of which is unrelated to immigration enforcement. Santa Clara receives $1.7 billion, or about 35 percent of its annual revenue, from the federal government while San Francisco gets $1.2 billion, or about 12.5 percent. That funding comes from a wide range of programs, including entitlement programs, and is used to pay for a number of critical government services. Judge Orrick also concludes that Santa Clara and San Francisco are likely to win the case given the limitations on the executive branch's control over funding.
While the part of President Trump's order that seeks to withhold all funding from sanctuary cities is likely unconstitutional, it's unclear whether a narrower effort–like the one outlined in Sessions' recent memo–would be successful. As the process continues, we can expect to see additional legal challenges as cities and states fight to maintain both their existing policies and funding.