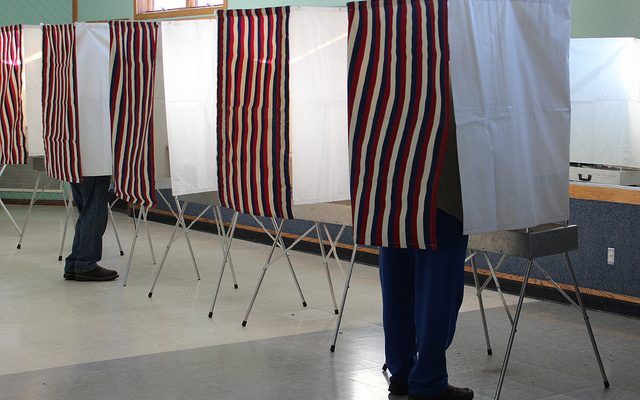 Image Courtesy of NicoleKlauss: License: (CC BY 2.0)
Crime
Reality Winner: NSA Contractor Charged With Leaking Classified Materials
By
|
A federal government contractor was charged with removing and mailing classified materials about Russian interference in the 2016 election to a news outlet, the Justice Department announced June 5.
Reality Leigh Winner, a 25-year-old intelligence contractor, printed and retained classified intelligence reporting from the National Security Agency, containing classified national defense information, on or about May 9, according to the Justice Department.
A few days later, Winner allegedly mailed that intelligence report to The Intercept, which subsequently published the NSA report on its site on June 5.
The report identified two cyber attacks by Russian intelligence actors: one in August 2016, the other in November 2016. In the August cyber attack, the intelligence actors executed a spear-phishing campaign against a company that sells voter registration-related software. As part of that campaign, the actors sent emails to members of the company to entice employees to click on a "link within a spoofed Google Alert email, which would redirect the user to the malicious domain." The report said the campaign "appeared to be designed to obtain the end users' email credentials."
During the November cyber attack, the actors also contacted the email addresses of 122 local election officials about a week before the 2016 election. The report said it is possible that those officials' email addresses were obtained from the compromised accounts of members of the company from the August attack.
The Intercept isn't new to publishing leaked classified information, having released 166 documents from whistleblower Edward Snowden in May 2016.
In its statement, the Justice Department announced that the Federal Bureau of Investigation arrested Winner at her home, on June 3. Winner appeared in federal court on June 5 where she was charged with violating 18 U.S.C. Section 793(e), a provision of the Espionage Act which deals with gathering, transmitting, or losing defense information.
If convicted, Winner could face up to ten years in prison.
"Releasing classified material without authorization threatens our nation's security and undermines public faith in government," said Deputy Attorney General Rod J. Rosenstein as part of the Justice Department's statement. "People who are trusted with classified information and pledge to protect it must be held accountable when they violate that obligation.
FBI Special Agent Justin C. Garrick said in an affidavit that the U.S. government agency conducted an audit of six individuals who had printed the intelligence reporting. It revealed that Winner had been in email contact with the news outlet. The audit did not reveal that the other five individuals had been in contact with the news outlet.
According to The Intercept, the NSA document was provided to the outlet anonymously.
Garrick also said Winner confessed that she had intentionally identified and printed the classified intelligence reporting, removed it from her office space, retained it, and mailed it to the news outlet.
In a series of tweets on June 5, WikiLeaks founder Julian Assange showed his support for Winner. He said sources like Winner, who does not have "elite immunity," should be "strongly encouraged" to communicate knowledge.
Alleged NSA whistleblower Reality Leigh Winner must be supported. She is a young women accused of courage in trying to help us know. pic.twitter.com/B4aIdt7qz6

— Julian Assange (@JulianAssange) June 6, 2017
Reality Leight Winner is no Clapper or Petraeus with "elite immunity". She's a young woman against the wall for talking to the press.

— Julian Assange (@JulianAssange) June 6, 2017
It doesn't matter why she did it or the quality the report. Acts of non-elite sources communicating knowledge should be strongly encouraged.

— Julian Assange (@JulianAssange) June 6, 2017
NY Daily News writer Shaun King also voiced his support for Winner, calling her a "courageous young woman" and "a brilliant Air Force veteran disturbed by what she saw."
I stand w/ this courageous young woman, Reality Winner, who leaked NSA docs.

She's a brilliant Air Force veteran disturbed by what she saw. pic.twitter.com/1U7MqsOPxS

— Shaun King (@ShaunKing) June 6, 2017
Still, others on social media remained staunchly opposed to Winner's actions.
Reality Winner is going to prison for her "snowflake" espionage acts.. who names their child Reality?#potus #maga #@CNNPolitics

— Cindi Turchik (@CindiTurchik) June 6, 2017
The more I learn about #RealityWinner, the more I think we need to be prosecuting whoever gave her a security clearance. Is there no line?

— Adam Goldstein (@AdGo) June 6, 2017
For now, however, Winner awaits her trial.