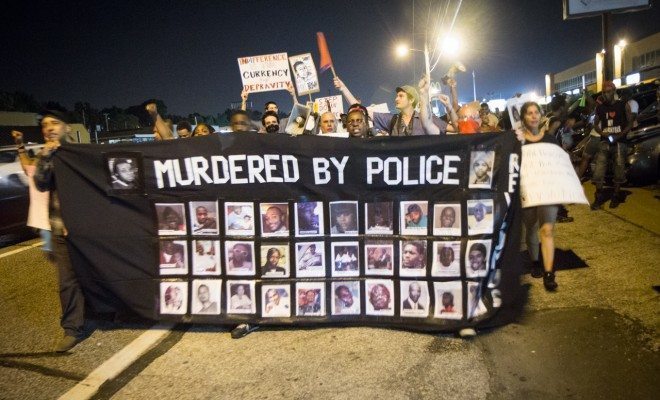 Image courtesy of [Brett Myers/Youth Radio via Flickr]
Crime
Are Police Shootings on the Rise, and Why Isn't the Government Counting?
By
|
After the death of Freddie Gray in Baltimore and several other high profile deaths at the hands of the police, people may ask whether an increasing trend is starting to emerge. Although it is nearly impossible to say for sure, most evidence suggests that police-involved shootings are not really increasing. Instead, these cases have started to garner much more attention among the media and the public.
The deaths of Michael Brown in Ferguson, Missouri, Eric Gardner in New York, Tamir Rice in Cleveland, Walter Scott in South Carolina, and now Freddie Gray in Baltimore are among a long list of recent deaths that have garnered a substantial amount of public discussion. There are several different explanations for this, notably the availability of video for these incidents and the growing sensitivity to police misconduct among the American public.
In a recent article, CNN interviewed executives at black newspapers who have been covering police shootings of black men for a long time. Tracey Williams Dillard, a publisher of the Minnesota Spokesman-Record told CNN, "It not only feels like there's more coverage, there is more coverage. … It's not a perception, it's definitely real."
Criminal justice advocates have long decried police officers' disproportionate use of force against black men, but until recently such instances rarely received national attention. The growing availability of video recordings of police encounters has helped promote the importance of this issue in the public's consciousness. This is particularly true in the case of Walter Scott, where in the absence of video evidence, media coverage could have been taken in a dramatically different direction. Instead of self defense as officer Slager and the attorney general stated, a video that came out after the fact revealed the murder of a defenseless man attempting to run away from a police officer.
One snapshot of the amount of public attention paid to these incidents can be found in Google search trends. The chart below illustrates the usage of the search term "police shootings" over time. While that is not a definitive example of the public's interest, it does indicate that since last August police shootings have received more attention than usual.
What does the data say?
It's clear that police misconduct and the use of force has become a hot button issue in the media and among the public, but do we really know police shootings haven't increased? Unfortunately, there is no way to know for sure. Typically to answer questions about law enforcement and crime we rely on the wide range of available criminal justice data sources; however, there is a glaring lack of information when it comes to officer-involved deaths.
The FBI collects and publishes a wide range of crime and criminal justice statistics in its annual Crime in the United States publication. While these statistics are far from perfect, they are an extremely important measure of crime in America. Unfortunately, the FBI does not have an overall count of people who are killed by police officers. The only available data details the number of justifiable homicides, which involves "the killing of a felon by a law enforcement officer in the line of duty." This count does not include unlawful killings by police officers. For example, Michael Slager, the officer who shot Walter Scott, now faces murder charges. If he is convicted, Scott's death would not be considered a justifiable homicide and as a result would not be counted in the FBI's statistics.
A Wall Street Journal review of the Supplementary Homicide Report from the FBI found that the voluntary nature of submitting data has created significant holes, concluding that there are "hundreds of homicides by law-enforcement agencies between 2007 and 2012 that aren't included in records kept by the Federal Bureau of Investigation." A recent Bureau of Justice Statistics (BJS) report also cast doubt on the accuracy of various homicide measures. The BJS review found that the FBI's Supplementary Homicide Report captured only 46 percent of police killings and the BJS's Arrest Related Death Program captured only 49 percent. Even after combining these two measures, an estimated 28 percent of police homicides were not counted in 2011.
Congress passed a law last year that will require all law enforcement agencies to track the death of any person in police custody, which includes deaths that occur while being arrested. The Death in Custody Reporting Act of 2013 is a significant step forward because it requires annual submissions of reports to the Justice Department detailing the name, race, gender, ethnicity, and age of the deceased. The report will also require the attorney general to report these findings to Congress; however, we may have to wait some time to see these statistics as the first report will come "not later than two years after the date of the enactment of this Act."
FBI Director James Comey and former Attorney General Eric Holder recently called for better data on police officer-involved deaths. This issue is also going to be an important topic in the next CJIS Advisory Policy Board Meeting this summer, where changes to the FBI's crime-reporting procedures are discussed. But sadly it took several high profile incidents to get the government to count these incidents accurately, and it will take some time before improved statistics are available.
So no, police officer-involved deaths are probably not on the rise; instead media coverage and public attention have increased dramatically. Some may question what caused this to become a national issue, but the more appropriate question seems to be: why wasn't it an issue already?