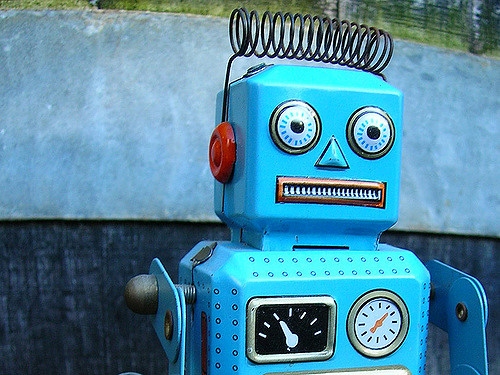 "blue robot" Courtesy of Peyri Herrera License: (CC BY-ND 2.0)
Technology
Free Chatbot Lawyer Makes Legal Aid More Accessible
By
|
Need to fill out legal forms but can't afford a human lawyer? Well, there's an app for that. DoNotPay, a chatbot that has been dubbed "The World's First Robot Lawyer," provides free legal aid to users on issues ranging from appealing parking tickets to landlord disputes. Don't expect the robot lawyer to represent you in court any time soon, but it can arm you with some of the tools and knowledge to deal with your legal case.
The artificial intelligence asks the user a series of questions about their legal issue. Then, after learning about the user's personal situation, the AI can help fill out necessary legal forms or provide links to other resources. Joshua Browder, the founder and CEO of DoNotPay, launched the bot in 2015 to help people appeal their parking tickets. According to The Telegraph, DoNotPay has helped beat an estimated 375,000 parking tickets worth around $10 million since its launch. But the bot hasn't stopped there.
DoNotPay started out in London and was programmed with New York City laws soon after. Since the bot first went live two years ago, it has expanded its reach to the rest of the United Kingdom and United States and will be able to assist people with 1,000 areas of law. A Facebook Messenger portion of the app can even help refugees complete immigration applications for the U.S. and Canada, and apply for asylum support in the U.K.
Browder, who was named on multiple Forbes 30 Under 30 lists for Europe for 2017, hopes DoNotPay will provide better access to legal resources for lower income individuals. The 20-year-old Stanford student told VentureBeat that DoNotPay started as a tool to fight his own parking tickets, but ended up revealing to him "how lawyers are exploiting human misery."
"From discrimination in Silicon Valley to the tragedy in London with an apartment building catching fire, it seems the only people benefitting from injustice are a handful of lawyers," Browder said. "I hope that DoNotPay, by helping with these issues and many more, will ultimately give everyone the same legal power as the richest in society."
With tools like DoNotPay, people may not have to pay a hefty price for a lawyer to help them fill out legal paperwork. But for more complex cases, a human touch might still be the better way to go.