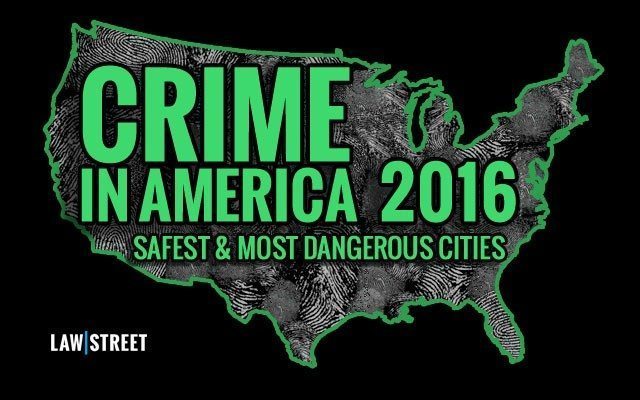 Image copyright Law Street Media
Crime
Infographic: Visualizing Crime in America 2016
By
|
Law Street's annual Crime in America Rankings take an in-depth look at crime rates and important crime statistics for major cities across the country. The following infographic gives a visual summary of the report's highlights and major findings:
Using statistics from the FBI, Law Street ranked cities, states, and metro areas according to their violent crime rates. Topping the list of most dangerous cities with populations over 200,000 is Detroit, Michigan with 1,989 violent crimes per 100,000 residents. The Memphis-TN metro area is the most dangerous metro and Alaska is the most dangerous state based on their violent crime rates per 100,000 people. The city with the lowest crime rate based on Law Street's criteria is Irvine, California, which continues its streak at the top of the list of safest cities. Maine has the lowest crime rate out of all 50 states.
One of the more interesting findings of Law Street's reporting is the wide range in the number of police officers relative to the number of city residents, which Law Street termed the officer to population ratio. Among cities with populations greater than 200,000, Washington, D.C. has the most sworn officers relative to its population size. On the other end of the spectrum is Santa Ana, California, which has just one police officer for every 1,274 residents. When taking a closer look at the rankings, many of the cities with fewer police officers relative to their size are also some of the safest cities in the country while some of the most dangerous cities have notably high ratios.
There are some important exceptions to those trends. For example, Stockton, California has one police officer for every 807 citizens, which is notably higher than other cities on the Most Dangerous Cities list. Stockton ranks in the top 20 in terms of its officer to population ratio but makes the top 10 list of dangerous cities. A likely explanation for this case is the fact that Stockton recently went through bankruptcy, which caused cutbacks in many government offices. This case may be an example of an understaffed and underresourced police department that, among other things, contributes to an above average crime rate.
Law Street's analysis of the FBI's half year data for 2015 shows how crime rates changed from January to June compared the year prior. The graph at the bottom of the infographic depicts the changes among the most dangerous cities over 200,000. While Detroit, Michigan experienced a notable decrease in its violent crime rate, St. Louis saw its rate increase by nearly 23 percent in the first half of 2015.
For an even more in-depth look at Law Street's crime coverage check out Crime in America 2016.