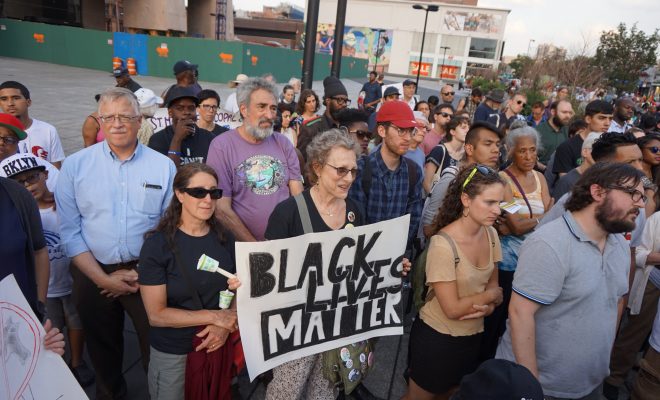 "#StandWithCharleston" Courtesy of [The All-Nite Images via Flickr]
Crime
Dylann Roof's Lawyers Seek Life Sentence Over Death Penalty
By
|
Dylann Roof is accused of killing nine people at a Charleston, South Carolina church last summer, and was charged with 33 federal offenses and received the death penalty. On Monday, Roof's defense attorneys filed a legal challenge to the capital punishment, arguing that the death penalty is unconstitutional.
#DylannRoof's federal attorneys try to throw out death penalty as 'unconstitutional': https://t.co/zNPsJJp1Hy pic.twitter.com/rkFDTu95r7

— The Root (@TheRoot) August 2, 2016
In a 30-plus page motion, his defense team wrote, "this Court should rule that the federal death penalty constitutes a legally prohibited, arbitrary, cruel and unusual punishment prohibited by both the Fifth and Eighth Amendments." The motion went on to say, "The facts of this case are indisputably grave. But if, as we contend here, the FDPA [Federal Death Penalty Act] is unconstitutional, no one can be lawfully sentenced to death or executed under it, no matter what his crimes."
If federal prosecutors drop the pursuit of the death penalty, Roof's lawyers say they will drop the challenge. Why the complication? The challenge comes from the prosecution's unwillingness to accept Roof's guilty pleas and multiple life sentences without parole.
Roof, a white male who is now 22-years-old, was indicted on 33 counts of federal hate crimes and firearm charges last summer. He is accused of killing nine black worshippers at a Bible study in the Emanuel AME Church in Charleston, South Carolina.
The Justice Department is strongly pursuing the death penalty because Roof targeted his victims on the basis of race and religion.
"The nature of the alleged crime and the resulting harm compelled this decision," Attorney General Loretta Lynch said in May about the decision to pursue the death penalty. A month after the shooting in July 2015, she said, "To carry out these twin goals of fanning racial flames and exacting revenge, Roof further decided to seek out and murder African Americans because of their race." She went on to say, "An essential element of his plan, however, was to find his victims inside of a church, specifically an African-American church, to ensure the greatest notoriety and attention to his actions."
The judge who is presiding over the case, Richard Gergel, did not immediately rule out the filing to challenge the death penalty. However, Twitter users immediately reacted.
#DylannRoof should absolutely be given the death penalty when found guilty. If you MURDER people, you have sacrificed your own right to live

— Josh Nelson (@RoarFromIA) August 2, 2016
Foreign terrorists don't get to challenge a death penalty, why should domestic terrorists? #DylannRoof #KillDylannRoof

— TW: White female. (@karmapolitical) August 2, 2016
#KorrynGaines & #DylannRoof news this AM. IF you're going to kill the woman who might have shot someone, then kill the man who murdered 9.

— Austin Saunders (@Widlcat77) August 2, 2016
Yeah, #DylannRoof doesn't deserve the death penalty. They should randomly go into his cell & violently murder him. That would be "fair".

— Faustslaughter (@Faustslaughter) August 2, 2016
Roof's federal trial is set for November 7 in U.S. District Court. A murder trial in South Carolina state court is scheduled for January.