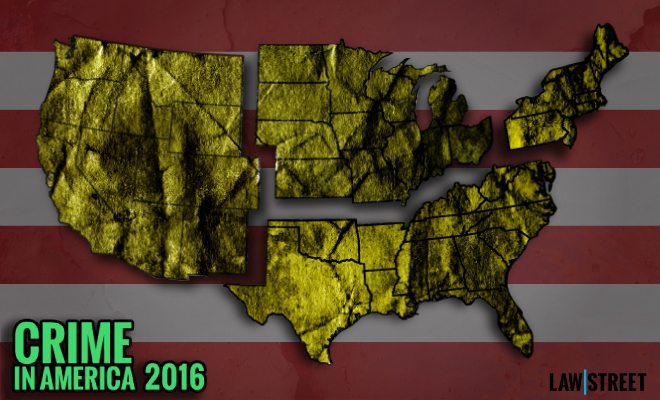 Image copyright Law Street Media
Crime
Crime in America 2016: Top 15 Most Dangerous Metro Areas
By
|
While crime in the United States continued its downward trend last year, some metropolitan areas experienced relatively high rates of violent crime when compared to the rest of the country. According to the most recent crime data from the FBI, which covers the 2014 calendar year, the Memphis, TN-MS-AR metro area had the highest violent crime rate in both the south and the entire United States for the second year in a row. The Memphis metro area had approximately 1034 violent crimes per 100,000 people. Of the 15 metro areas with the highest crime rates, nine are located in the Southern region of the United States while none of the top 15 are located in the Northeast.
Check out the slideshow below to see the rankings of the Top 15 Most Dangerous metro areas across the United States. All rates below are calculated per 100,000 people. Ranking metropolitan areas provides additional insight about crime in the United States because the statistics account for crime in a principal city as well as surrounding suburbs, which tend to be both socially and economically integrated.
Read More: Interactive Crime Map of the United States
Overall Rank: #1
Rank in South: #1
Rates/100,000 people:
– Violent Crime: 1034
– Murder: 13
– Rape: 51
– Robbery: 270 
– Aggravated Assault: 699
Population: 1,348,092
The Memphis, TN-MS-AR metro area includes Crittenden County, AR; Benton, DeSoto, Marshall, Tate, and Tunica Counties, MS; and Fayette, Shelby, and Tipton Counties, TN as well as the city of Memphis, TN.
More info on metro areas:
The Office of Management and Budget began delineating Metropolitan Statistical Areas (MSAs) in the 1950s in order to provide an established level of analysis for government reports and statistics. MSAs are characterized as having an urban core with more than 50,000 people and surrounding areas that have close social and economic integration. The FBI does not provide data on all of the 388 MSAs defined by the Office of Management and Budget. Click here to see the FBI's explanation for why all MSAs are not included. MSAs are organized by counties or their equivalent. All statistics in Law Street's Crime in America metro rankings are presented as rates per 100,000 people, and they are taken from the FBI's annual Crime in the United States publication section on metropolitan statistical areas. To see the FBI's data click here.
Click here to see full Crime in America 2016 Coverage, including the Safest & Most Dangerous Cities and States.