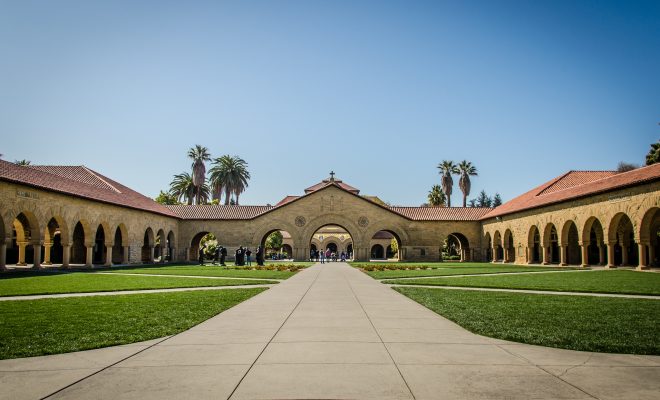 "Stanford University" courtesy of [Michael Camilleri via Flickr]
Crime
Brock Turner Released From Jail After Serving 3 Months for Sexual Assault
By
|
After serving only three months in Santa Clara County jail for sexual assault, former Stanford University swimmer Brock Turner was released on Friday morning. He left after serving half of a six-month sentence that he received in June after he was convicted of sexually assaulting an unconscious woman on Stanford's campus in of January last year.
The case has been widely covered and the judge was harshly criticized for the lenient punishment. Prosecutors wanted a six-year sentence, but Superior Court Judge Aaron Persky responded saying, "A prison sentence would have a severe impact on him. I think he will not be a danger to others."
As Turner left the jail, wearing dress pants and a wrinkled white shirt, a small group of demonstrators and members of the press watched. Sandra Pfeiffer, who told NPR member station KQED that she was a rape survivor herself, said, "Other people get locked away for a very long time, why did he get out after 90 days? Why? Why? It doesn't make sense."
In the aftermath of Turner's sentencing, the Department of Education released a list of sexual assault complaints at colleges across the country. The list revealed that Stanford had five federal complaints–not counting Brock Turner's case, which was conducted in the justice system not by the university–into how the school handled sexual assault cases. According to the list, Stanford had the most of any school under review.
Before Turner was sentenced, his father sent a controversial letter to the judge in his son's case, which also led to a lot of criticism. In the letter, he argued that his son didn't deserve to have his life ruined by a prison sentence. He wrote, "His life will never be the one that he dreamed about and worked so hard to achieve. That is a steep price to pay for 20 minutes of action out of his 20 plus years of life."
In court, Turner's victim read a powerful statement in court where she questioned the lenient punishment and society's view on sexual assault. She also wondered what the outcome would have been if the assailant had not been a privileged, white star-athlete:
If I had been sexually assaulted by an un-athletic guy from a community college, what would his sentence be? If a first time offender from an underprivileged background was accused of three felonies and displayed no accountability for his actions other than drinking, what would his sentence be?
Turner's early release made a lot of people on Twitter mad, as some saw it as an example of white privilege.
I know dudes from my hood who've had their lives ruined over a bag of weed and this dude Brock Turner just did 3 months for rape.

— Blédakiss (@ChefRoble) September 2, 2016
If only Brock Turner were a poor undocumented Mexican immigrant & not 'an All-American boy,' Trumpists cld use him to vilify a whole people.

— Jeffrey Wright (@jfreewright) September 2, 2016
Some argued that his sentence reflects one of the many reasons why victims of sexual abuse often do not speak up.
If you ever say "Why don't rape victims just tell the police?" Please refer to the Brock Turner case and realize that it's not that simple.

— tess (@that1mum) September 2, 2016