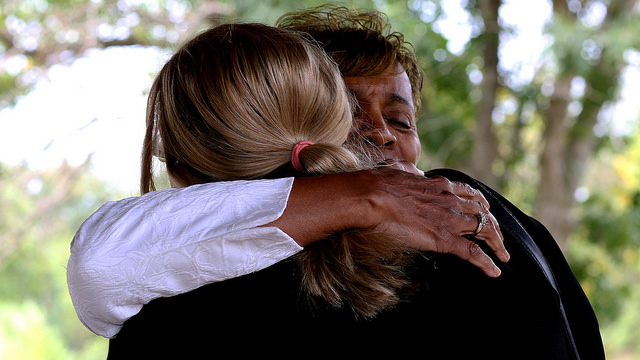 Image Courtesy of Fort George G. Meade Public Affairs Office : License (CC BY 2.0)
Crime
Black Lives Matter Activists to Bail Out at Least 30 Women for Mother's Day
By
|
In honor of Mother's Day this Sunday, the Black Lives Matter movement is giving the gift of freedom to several black women in dozens of jails across the country. At least 30 women will be bailed out just in time to spend the holiday with their children, for what they're calling National Mama's Bail Out Day.
This year, give the gift of freedom for Mother's Day #EndMoneyBail #FreeBlackMamas https://t.co/7YhBtmHkAi

— NationalBailOut (@NationalBailOut) April 27, 2017
According to The Nation, many of these women are in jail for low-level offenses such as loitering or small-scale drug possession. These women haven't been convicted, but remain jailed because they can't afford bail.
A coalition of 25 black-led organizations, including organizers with Southerners on New Ground (SONG), the Movement for Black Lives, and ColorOfChange, raised more than $250,000 toward the release of women in Atlanta, Houston, Los Angeles, and several other cities.
Sixty-two percent of people in jail can't afford to post bail. This coordinated bail-out is meant to underscore not only that issue, but other major problems with the criminal justice system–especially those affecting poor black women. Women in local jails make up the fastest growing demographic in the U.S. incarceration system, and black women make up 44 percent of women in jails.
According to the U.S. Department of Health and Human Service, about 70 percent of female offenders are mothers. The majority of these women are single mothers with at least two young children; therefore, an extended jail stay is often significantly more devastating for their home life than, let's say, the incarceration of a male without children.
Once arrested, defendants face a litany of fees, which could add up to thousands of dollars–whether they can afford them or not–aside from just bail. These include public defender application fees; reimbursement fees for representation; and supervision, programming, and electronic monitoring fees for those released on pretrial supervision.
"The National Black Mama's Bail Out Day Action is part of the growing movement to end mass criminalization and modern bondage," the SONG website states.
It is rooted in the history of Black liberation, inspired by the enslaved Africans and Black people who used their collective resources to purchase each other's freedom. Through this action, we will support birth mothers, trans mothers, and other women who [are] mothers and are entangled in the criminal legal system.
Arissa Hall, a national Mama's Bail Out Day organizer and project manager at the Brooklyn Community Bail Fund told The Nation that "it's a myth that folks don't come back to court" when released on their own recognizance.
According to her, upwards of 95 percent of people helped by bail funds return to court for their scheduled appearances. "People will come back to court regardless of whether or not bail is set."
The bailouts are scheduled to happen on Thursday and Friday, with Mother's Day celebrations scheduled for Sunday. The coalition is continuing to raise money for more bailouts, and is even considering a potential Father's Day effort.