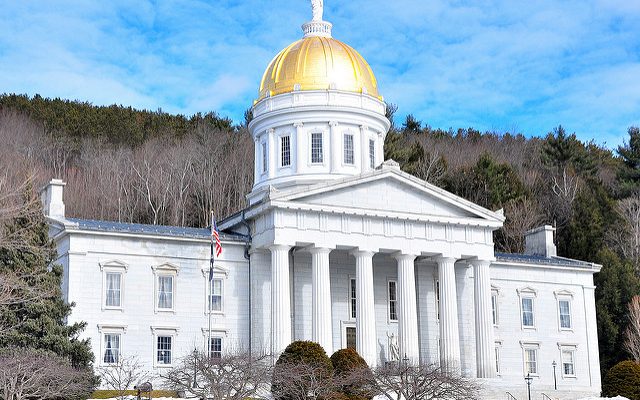 Vermont State Capitol Courtesy of Jim Bowen : License (CC BY 2.0)
Cannabis in America
Vermont Legislature Passes Recreational Marijuana Bill
By
|
Vermont's House of Representatives voted in favor of legalizing recreational marijuana throughout the state in a 79-66 vote on Wednesday. The legislation now heads to Governor Phil Scott's desk to be signed.
The bill would legalize possession of up to one ounce of marijuana and cultivation of up to two plants for adults 21 years and older, beginning in July 2018. It would also set up a nine-member commission to study the best way to regulate and tax marijuana in the future.
BREAKING: #Vt house votes 79-66 to pass marijuana legalization @MyNBC5 pic.twitter.com/iXxHUAAlE5

— Rachel Karcz (@RachelMyNBC5) May 10, 2017
If signed, Vermont would become the first state to legalize recreational marijuana through its state legislature. Eight states, and Washington D.C., have approved recreational marijuana through ballot initiatives.
The House of Representatives's vote came after the Senate approved a revision to S. 22 to include the language of H.170, which the House passed last week.
"Vermont lawmakers made history today," said Matt Simon, the New England political director for the Marijuana Policy Project, a marijuana policy group. "The legislature has taken a crucial step toward ending the failed policy of marijuana prohibition."
According to a recent poll of 755 Vermont voters, 57 percent of respondents said they support allowing adults who are 21 or older to use, possess, and securely grow marijuana.
"It's time for Vermont to move forward with a more sensible marijuana policy," Simon said. "The voters and the Legislature are behind it, and we hope the governor will be, too."