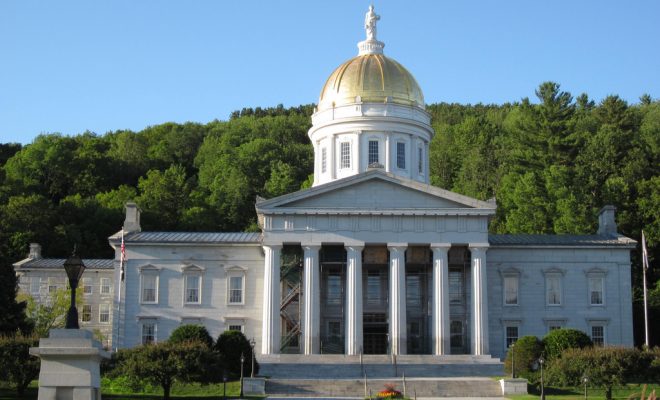 Image Courtesy of Doug Kerr; License: (CC BY-SA 2.0)
Cannabis in America
Vermont Governor Rejects Marijuana Legalization Bill
By
|
The two-week wait is over: Vermont Gov. Phil Scott vetoed legislation on Wednesday that proposed a legal framework for recreational marijuana. Scott, a Republican, said he was not "philosophically opposed" to legalization, but he still had concerns–mostly regarding public safety and children's health–that the bill did not adequately address.
"We must get this right," Scott said. "I think we need to move a little bit slower."
The legislation, which passed the Democrat-controlled House earlier this month by a vote of 79-66, would have made it legal for people 21 and up to possess up to one ounce of marijuana. Set to take effect in July 2018, the bill would have created a nine-member commission to establish a regulatory framework. Medical marijuana became legal in Vermont in 2004.
In vetoing the measure, Scott blocked Vermont from becoming the ninth state–plus Washington D.C.–to legalize marijuana for recreational use. A handful of states passed legalization measures through referendums last November. Vermont, which also tried and failed to legalize recreational cannabis last year, does not have legal authority to put marijuana legalization to a ballot vote.
Lt. Gov. David Zuckerman opposed Scott's decision to veto the bill:
"Prohibition has failed and causes approximately 100,000 Vermonters to be labeled lawbreakers," he said. "Vermont is now lagging behind other states in the region and is missing opportunities to capture revenue from an underground market that would allow us to address highway safety, drug education and treatment, and other needed state investments to reduce the temptation of drug use."
Vermont residents are among the most pot-friendly in the country, according to some studies. But they will likely have to wait until next year to have another go at legalization. However Scott did say that lawmakers could amend the bill he vetoed on Wednesday over the summer, during a special legislative session.
In a statement issued Wednesday afternoon, Matt Simon, the New England political director for the Marijuana Policy Project, said he was "disappointed" by the governor's decision, but "encouraged" by his commitment to eventual legalization. Simon added:
Most Vermonters want to end marijuana prohibition, and it is critical that the legislature respond by passing a revised legalization bill this summer. Marijuana is less harmful than alcohol, and there is no good reason to continue treating responsible adult consumers like criminals.