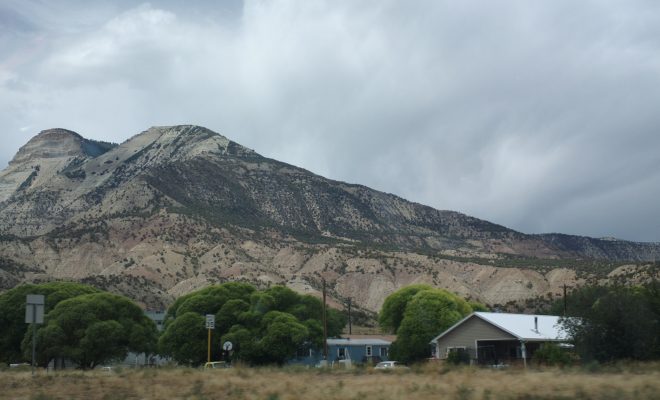 Image Courtesy of Roland Tanglao; License: (CC BY 2.0)
Cannabis in America
Welcome to Tumbleweed Express: America's First Marijuana Drive-Thru
By
|
When Mark Smith realized that the residents of Parachute, Colorado craved a late-night marijuana fix, after his dispensary had closed for the day, he had an idea. Smith, 58, decided to re-brand the Valley Car Wash across the street from his dispensary as Tumbleweed Express, the nation's first marijuana drive-thru business. The drive-thru's grand opening coincides with the unofficial–yet widely celebrated, especially on college campuses–holiday of "4/20," a spirited celebration of pot and paraphernalia.
Smith, a lifetime entrepreneur who once owned 23 pawn shops, explained to a local Fox affiliate his rationale for opening Tumbleweed Express: "I've been driving by the car wash building a lot. I talked to the realtor here in town and it was for sale. So, it seemed like the perfect fit," he said.
Ribbon cutting at Tumbleweed Express at 1pm today. pic.twitter.com/Y41yUJAFjL

— Parachute Colorado (@VisitParachute) April 20, 2017
Parachute once seemed like an unlikely place for the nation's–and the world's, according to Smith–first pot drive-thru. Though the town of 1,100 is in the first state in the nation to legalize recreational marijuana, it had a freeze on marijuana sales until June 2015. But as the town's economic engine, its natural gas reserves, sputtered, town officials decided to lift the marijuana ban, which proved a boon to Parachute's economy. In 2016, according to the Post Independent, 30 percent of the town's tax receipts were from marijuana sales.
Smith has taken full advantage of Parachute's marijuana renaissance. He opened a dispensary in Parachute last February, expanded to a few more towns, and on Thursday will become America's first steward of a marijuana drive-thru. It was when he realized that customers craved a late-night cannabis fixing, with no local dispensary open late enough to scratch that itch, that Smith decided to pursue his latest venture.
"I didn't set out thinking this would be national news," Smith told the Post Independent. "I didn't have some big epiphany. I just saw a need for our customers." According to Robert Goulding, a spokesman for Colorado's Marijuana Enforcement Division, "the same laws apply to the drive-thru as do the main dispensary." The rules include: customers must be 21 years old or up, there must be security and surveillance at the point of sale, and no pot can be visible outside the drive-thru premises.