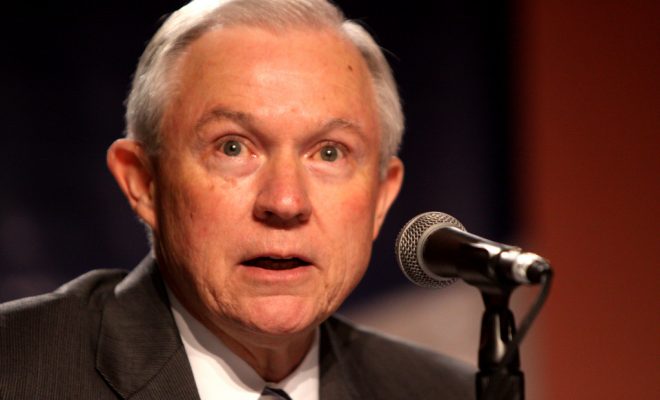 Image Courtesy of Gage Skidmore; License: (CC BY-SA 2.0)
Cannabis in America
Pro-Marijuana Group Gives Jeff Sessions an Earful Before Confirmation Hearing
By
|
Senator Jeff Sessions (R-AL), President-elect Donald Trump's nominee for attorney general, will face the Senate in a confirmation hearing on Tuesday. In an effort spearheaded by the National Organization for the Reform of Marijuana Laws (NORML), pro-marijuana groups are asking supporters to call their senators on Monday, and let them know that they will not stand for any aggressive enforcement actions taken by Sessions, who once said "good people don't smoke marijuana."
"Senator Sessions' views are out of step with mainstream America and they are in conflict with laws throughout a majority of states," said NORML Executive Director Erik Altieri in a statement. "We must demand that Senators on the Judiciary Committee ask this nominee whether he intends to respect the will of the voters in these states and whether he truly believes that no 'good people' have ever smoked pot." The "Day of Action" included the Twitter campaign #JustSayNoToSessions:
.@SenBobCasey @SenToomey you guys gotta #JustSayNoToSessions! Please, do not let this guy gain any more power, lest our country suffer more

— Derek Rosenzweig (@ozzyogkush) January 9, 2017
Since Trump's announcement in November, Sessions has come under fire for disparaging comments he has made in the past in regard to marijuana. In the 1980s, while serving as a U.S. Attorney for the Southern District of Alabama, Sessions said he thought the Ku Klux Klan "were OK until I found out they smoked pot." He later said those remarks were a joke. Sessions has also called marijuana reform "a tragic mistake."
Marijuana laws around the country are loosening: more than a quarter of all Americans live in a state with either recreational or medical marijuana legalized. Most recently, on Election Day, eight states passed ballot measures to legalize recreational or medical marijuana. But at the federal level, marijuana remains an illegal substance, classified in the same group as heroin and LSD.
@NORML I called Senators Patty Murray and Maria Cantwell of Washington State. Put down your bongs, pick up your phones, and speak up

— DonSativa (@MrPandejo) January 9, 2017
Eric Holder and Loretta Lynch, the attorney general under President Barack Obama, did not aggressively enforce the federal marijuana ban at the state level. But now, as Sessions prepares to lead the Justice Department, marijuana proponents worry that he could order raids on growing facilities, and arrest dispensary owners in the name of the federal ban. While he has not made any mention of how he might enforce the federal law in regard to marijuana, Sessions will have power to clamp down if he wishes.