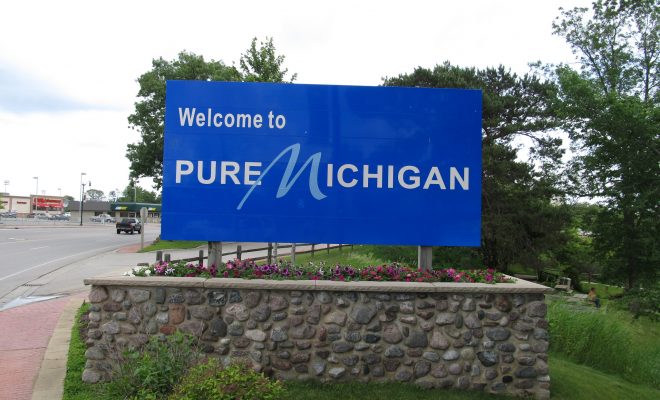 Image Courtesy of Ken Lund; License: (CC BY-SA 2.0)
Cannabis in America
Michigan May Have a Marijuana Legalization Measure on the 2018 Ballot
By
|
Pro-marijuana groups in Michigan submitted language to the Board of State Canvassers on Friday for a ballot initiative to legalize recreational marijuana. If the measure makes it to the November 2018 ballot, Michigan would become the ninth state to fully legalize cannabis for adult use. Spearheaded by the Coalition to Regulate Marijuana Like Alcohol, the legalization push follows a failed attempt to get a similar measure on the November 2016 ballot.
"Our country's marijuana prohibition laws have failed miserably. About 20,000 nonviolent offenders are arrested annually for marijuana possession and cultivation, causing an enormous waste of taxpayer dollars and choking our already overburdened court system," John Truscott, a spokesman for the Coalition to Regulate Marijuana Like Alcohol, said in a press release.
"This initiative would make Michigan a leader in responsible adult-use marijuana laws, while also creating an entirely new industry and generating badly needed tax revenue for our state," he added. The Coalition is bolstered by a national marijuana advocacy group, the D.C.-based Marijuana Policy Project, which is expected to bring experience and cash to the 2018 campaign.
The group backed some of the campaigns that wound up on ballots last November, when California, Maine, Massachusetts, and Nevada passed measures that legalized adult use. In total, eight states and D.C. have legalized recreational pot. Dozens more have legalized medical marijuana. Michigan voters passed a medical marijuana measure in 2008.
Over 250,000 voter signatures are required–within a 180-day period–before the measure can be placed on the ballot. Before the signatory search can begin, however, the Board of State Canvassers must review and approve the ballot's language. A meeting has not yet been scheduled. In the 2016 legalization campaign, the Coalition secured enough signatures–over 300,000–but not within 180 days of the Board's approval.
The measure submitted on Friday would legalize the possession and sale of up to 2.5 ounces of marijuana for people who are 21 and up. A ten percent excise tax would be added to marijuana sales, on top of Michigan's current six percent sales tax. Five groups would be subject to regulations according to the ballot initiative: cultivators (in classes of 100 plants, 500 plants, and 2,000 plants), processors, testing facilities, transporters, and retailers.
Tax revenues from marijuana sales would be split down the middle, with half going to educational institutions, and the other half to Michigan cities and counties that allow marijuana businesses to operate. The proposed ballot measure would also legalize the cultivation of industrial hemp. Though Michigan's attorney general has yet to stake out a position on legalization, the state's law enforcement agencies have expressed opposition to the effort.
"There's no good that I can see that will come out of this," Blaine Koops, executive director of the Michigan Sheriff's Association, recently told the Detroit Free Press. "One of the problems we have is that there's no way to measure the level of intoxication from this drug. And an increase in criminal behavior in all likelihood will occur."