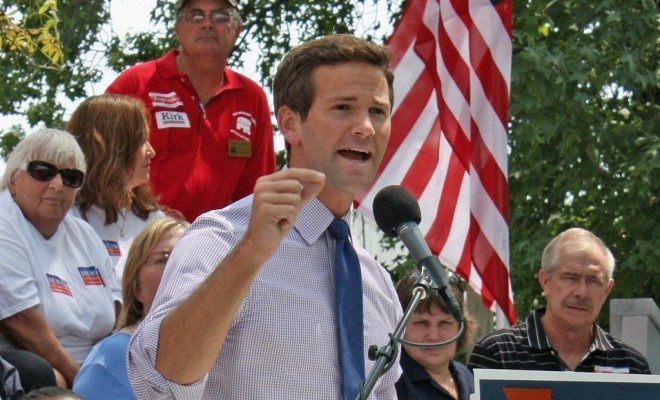 Image courtesy of [Randy von Liski via Flickr]
Blogs
Aaron Schock's Age Didn't Do Him in, His Idiocy Did
By
|
Ever since Illinois Republican Aaron Schock stepped foot in Washington D.C. he's been making headlines. He was one of the first millennials to be elected to Congress, in 2009. He gained prominence for his flashy Instagram account, constant presence at the gym, weird office re-decoration possibly inspired by television show "Downton Abbey," and persistent gay rumors. All of those things, in addition to his millennial status earned him applause from some and criticism from others. Either way, one thing is certain: Aaron Schock was certainly a character. A character that Washington is losing, as Schock announced his resignation yesterday after weeks of financial scandal allegations. But I want to be clear about one thing: Schock isn't resigning because he's young, or because he's a millennial. He's resigning because he's a corrupt idiot.
Schock's downfall essentially came from the fact that he spent way too much money. Some of that money was campaign donations, which he is accused of spending for personal use. He also used taxpayer money for things like private flights, and he was untruthful when filing things like spending reports and travel reimbursements. Some of the best allegations about Schock's spending include:
A personal photographer named Jonathan Link. Schock paid Link and his studio more than $50,000 last year and listed that cost as "personnel."
He requested mileage reimbursements for miles driven in his car for both official government business and campaigning; however, his car had less than half of the miles on it he claimed he had driven.
He paid to take his interns to a sold-out Katy Perry concert.
His "Downton Abbey" inspired office cost $35,000, but was designed by the wife of one of his donors. Many have argued that it was an "inappropriate gift." The Washington Post described Schock's private office as including "a drippy crystal chandelier, a table propped up by two eagles, a bust of Abraham Lincoln and massive arrangements of pheasant feathers." Overall, Schock has spent more than $100,000 to renovate his various offices.
Last one. Full shot of Aaron Schock's office. http://t.co/PJ1NGekafQpic.twitter.com/2SjsGQlKhp

— Ben Terris (@bterris) February 3, 2015
Overall, it seems pretty clear that Schock's spending practices weren't really in line with helping his constituents, but more with helping Schock himself.
Many of his colleagues are disappointed because they saw him as a rising, attractive Republican star. With an active presence on social media that included pictures with people like popstar Ariana Grande, he was more prominent for many young people than say, Senator Lindsey, "I've never sent an email" Graham. In a party that has long struggled to connect with young people, Schock seemed like a shoe-in to help fix that problem. But not everyone was so impressed with the Congressman. Politico, which broke the story yesterday, reported:
Schock's associates — many of whom are afraid to speak for attribution, fearing potential legal action — say a combination of immaturity, sloppiness and an oversized ego led to his downfall. He came to Congress as an eager 27-year-old, raised a lot of money and spent it at a rapid clip.
I think that's partly right. I think he did have a huge ego, was incredibly sloppy with his position, and was incredibly immature. That being said, politicians get slammed on this kind of stuff all the time, particularly in Schock's home state of Illinois. I'm not sure what's in Illinois' water, but more than 1,500 holders of various political offices in the state have been convicted on corruption charges in roughly the last 40 years. That includes four out of seven of its most recent governors. Schock may have been sloppy, immature, and egotistical, but I don't think he's alone.
The issue isn't that a millennial politician can't be successful. Schock's fellow millennials include Representatives Tulsi Gabbard, Patrick Murphy, and Elise Stefanik, none of whom seem to have the same spending issues. Young people need to get involved in politics–from the most recent midterms alone, it's obvious we're lagging in participation. It really is pretty clear Schock didn't get nabbed because he's young or  likes to travel. He got nabbed because he, like so many other politicians, became entitled and thought he was untouchable.