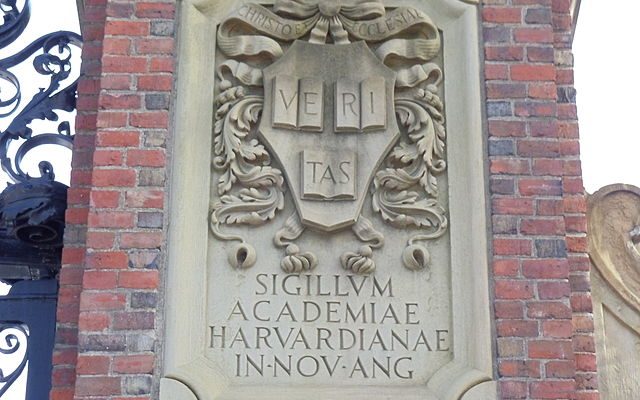 "The Seal of Harvard College" Courtesy of Jimeckland; License: public domain
Schools
Students Lose Harvard Acceptances for Obscene Memes
By
|
Harvard affirmed the long-standing belief that topics like the Holocaust, sexual assault, and the deaths of children should probably not be joked about. At least ten students lost their acceptances to the Ivy League school in mid-April after university officials discovered that members of the incoming freshman class were posting memes related to these topics in a Facebook messaging group titled, at one point, "Harvard memes for horny bourgeois teens," according to the Harvard Crimson.
The chat originated from members of the official Harvard Class of 2021 Facebook group in December who all shared the common interest of sharing memes with one another. While the 100-member group chat started out as "lighthearted," according to one student, some members felt that the content did not meet the standards of humor they were accustomed to.
As a result, a "dark" meme chat was formed. Of course, not just any student could join. The founders of the new chat required that prospective members post provocative memes in the larger messaging group before they could be allowed in, according to Cassandra Luca, a member of the original meme group.
"They were like, 'Oh, you have to send a meme to the original group to prove that you could get into the new one,'" Luca said. "This was a just-because-we-got-into-Harvard-doesn't-mean-we-can't-have-fun kind of thing."
The "fun" included racist and sexist memes and messages that joked about child abuse and rape. One group of messages joked that abusing children was sexually arousing, while another referred to the hypothetical hanging of a Mexican child as "piñata time."
Depending on your moral compass, the supposed "fun" thankfully, or unfortunately, came to an abrupt halt mid-April when employees in Harvard's admissions office emailed those suspected of posting offensive memes to disclose their involvement. A copy of the Admissions Office's email, obtained by the Crimson, reads:
The Admissions Committee was disappointed to learn that several students in a private group chat for the Class of 2021 were sending messages that contained offensive messages and graphics…As we understand you were among the members contributing such material to this chat, we are asking that you submit a statement by tomorrow at noon to explain your contributions and actions for discussion with the Admissions Committee.
Administrators told the students who received the email that their admissions status was being reviewed and were also told not to attend Visitas, a weekend event for incoming freshman Harvard holds annually at the end of April. About a week later, at least ten members of the group chat were told that they were no longer going to attend Harvard.
Harvard has the right to rescind applications of any incoming student who "engages in behavior that brings into question his or her honesty, maturity, or moral character."
This is the second consecutive year that Harvard has dealt with incoming freshman exchanging offensive messages online. Members of the class of 2020 sent racially-charged messages to one another in an unofficial class GroupMe. However, these students were not disciplined by the university because they were "not matriculated students at this point," according to then-Interim Dean of Student Life Thomas A. Dingman.
Many will inevitably claim that the students' right to free speech was violated in the school's decision, but even fellow members of the incoming freshman class agree it was the right call.
"I appreciate humor, but there are so many topics that just should not be joked about," said Jessica Zhang, a member of the class of 2021. "I respect the decision of the admissions officers to rescind the offers because those actions really spoke about the students' true characters."