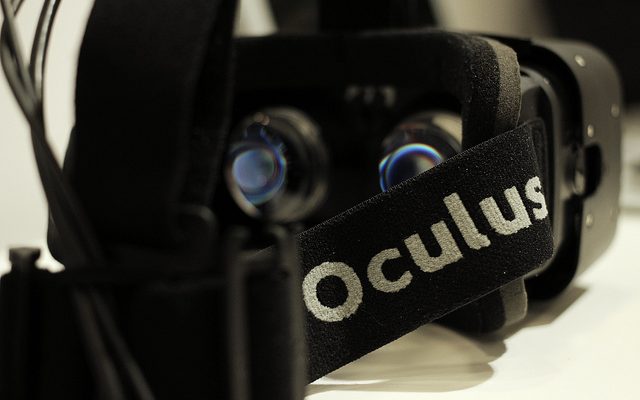 "Oculus RIft Crystal Cove prototype" courtesy of Maurizio Pesce, License: (CC BY 2.0)
IP & Copyright
Lawsuit Seeks to Block Facebook from Selling Oculus VR Products
By
|
In 2014, Facebook CEO Mark Zuckerberg announced that the social networking giant was making a transformative new acquisition: Oculus VR. Oculus is a virtual reality company that aims to redefine digital entertainment by taking its users into a completely virtual world. However, the VR company may have to completely redesign its coding platform and remove some VR headsets from the market due to a lawsuit from prominent video game maker ZeniMax.
A jury Awarded ZeniMax $500 million in February, but now the company is seeking an injunction to block Facebook from selling the Oculus Rift headset on account of alleged copyright violations. According to the February ruling, former employee and Oculus co-founder Palmer Luckey, violated his non-disclosure agreement and committed copyright infringement and false designation when he took code from ZeniMax to develop the Oculus VR technology. If ZeniMax does not receive a permanent injunction from the judge, the company wants a 20 percent cut of all Oculus sales over the next 10 years.
According to Bloomberg, the likelihood that the product will be pulled from the market is not very high, even though the two companies are competitors. Historically, judges have preferred financial compensation over ordering companies to take products off the shelves. The judge in this case–Ed Kinkeade, a district court judge in Northern Texas–encouraged both sides to reach a settlement and avoid a trial when they presented their cases on Tuesday.
Facebook is strongly resisting efforts to stop Oculus sales. The company's lawyers argue that placing a ban on the products would put unfair hardship on Oculus, only benefit ZeniMax, and "detract from the public's enjoyment" of virtual reality technology. Furthermore, in a court filing on June 15, Facebook argued that the required payout was unfair and said that $50 million would be more than reasonable.
Facebook has a lot at stake with this decision. Not only did the company spend $2 billion to purchase Oculus in 2014, but according to Bloomberg, the virtual reality and augmented reality industry may be worth an estimated $40 billion in 2020.
Virtual reality and augmented reality technologies are continuing to grow within the tech world. For example, in Apple's upcoming iOS 11 update includes an ARkit for developers to incorporate AR into their apps. Apple forged a partnership with Ikea to use ARkit, which will let users see how the company's furniture would look in their homes. The possibilities in VR and AR are seemingly endless and Facebook does not want to miss out.