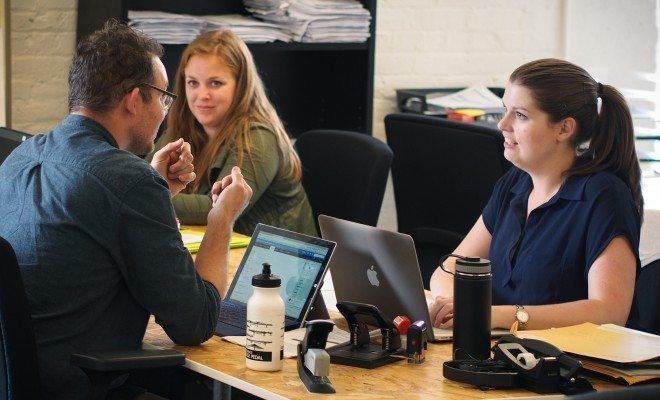 Image courtesy of [Lewis & Clark Law School]
Schools
Lewis & Clark Law School's New Criminal Justice Reform Clinic Fills Holes in the Criminal Justice System
By
|
Sponsored Content
Lewis & Clark Law School is now offering its students an innovative way to gain hands-on experience with criminal law. A new clinic called the Criminal Justice Reform Clinic is a collaboration between the law school and the Oregon Justice Resource Center (OJRC) and will benefit both law school students, and members of the community in need of legal resources.
The OJRC is a non-profit founded by Lewis & Clark Law School graduates in 2011. Its mission is to:
Dismantle systemic discrimination in the administration of justice by promoting civil rights and enhancing the quality of legal representation for traditionally underserved communities. In the spirit of this mission and in collaboration with other like-minded organizations, OJRC believes in an integrative, three-pronged approach to systemic change and achieving its goals in the core areas of criminal defense and wrongful convictions: 1) advocating for individual clients and systemic change in the law; 2) educating future social justice lawyers; and 3) engaging the community in a dialogue about our justice system.
I had the opportunity to talk to law Professor Aliza Kaplan, who is supervising the clinic, about its inception and goals. She explained that the students who are involved in the clinical program will have the option of being involved in three different projects, providing different ways to engage in the criminal justice system.
The first project involves working in tandem with the Oregon Innocence Project. The Oregon Innocence Project was launched by the OJRC just last year, and focuses on exonerating those who have been wrongly convicted by investigating their claims, re-testing crucial evidence like DNA, and following up on appeals if needed.
Another avenue for students to get involved is the Criminal Justice Project. It focuses on reforming the Oregon criminal justice system in a number of ways, including an arm that works directly on death penalty reform. The students who participate in the Criminal Justice Project will also have the opportunity to work on Eighth Amendment  and sentencing issues and to get involved in the Amicus Curiae Project. The Amicus Curiae Project "provides amicus assistance on the state level in cases that present significant social justice issues that are related to criminal defense, civil rights, juvenile justice, or are of particular importance to traditionally underserved communities," says Kaplan.
The final project that clinical students can work on is a new endeavor called the "Reentry Law Project," a joint project with Mercy Corps, which will provide much-needed legal services for people once they've been released from prison. There are myriad legal issues that people who have been released from prison face, including problems with immigration, healthcare, and housing.
The clinic offers new opportunities to students at Lewis & Clark Law School, and a valuable service to the Portland community. Law students interested in criminal justice issues were lacking an outlet through which to gain hands-on experience. Since the inception of the OJRC, students have been volunteering with the organization and gaining experience working in this field. The new clinical program will increase student involvement, participation, and benefits while meeting community need.
The OJRC has only been around since 2011, and the social justice issues it faces head on are just beginning to be recognized in Oregon. In doing so, the OJRC is tackling a massive field–the conversation about the inadequacies and difficulties inherent in our criminal justice system have never been more visible than they are now. Law school students, regardless of where they are attending school, are on the precipice of entering a legal environment that is being forced to confront these issues–getting hands on experience while still in law school can only strengthen the skills of the students once they enter that environment.
As Professor Kaplan explained to me, the OJRC has taken on a broad remit as an advocate for reform across a range of criminal legal issues as well as providing client services and raising the funds and awareness that are crucial to its success. For students, being part of the OJRC in an official role through the Criminal Justice Reform Clinic provides insights that cannot be found in a classroom. For the organization itself, the students' contribution allows more to be achieved in less time, helping the OJRC to advance its mission in Oregon more quickly and more profoundly.