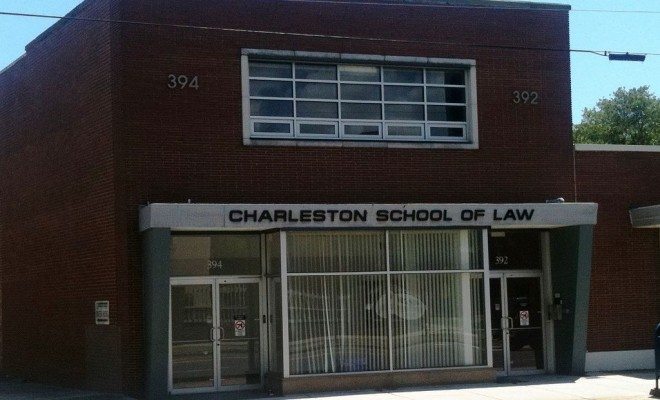 Image courtesy of [ProfReader via Wikipedia]
Schools
InfiLaw's Attempt to Purchase Charleston Law is a Giant Mess
By
|
Charleston Law School has had a tough few years. It was established in 2003–right when that big law school boom was starting– and its first class graduated in 2007. The school began as a way to fill a gap in legal education that existed in Charleston; despite the fact that it's the second largest city in South Carolina, there was not a law school there when Charleston Law began operating.
In 2013, the school began dealing with a company called InfiLaw, which eventually purchased the school pending approval by the American Bar Association (ABA) and South Carolina's commission on higher education.
InfiLaw is part of Sterling Enterprises, a private equity company from Chicago, and it operates for-profit law schools. Currently there are three in InfiLaw's collection–Florida Coastal School of Law, Arizona Summit Law School, and the Charlotte School of Law. Charleston Law would be the fourth. The company's reputation within the law school field isn't particularly stellar. There are concerns that InfiLaw is a scam, and predatory–after all, it takes students who can't get into other law schools, puts them into massive debt, and then those students have a very difficult time finding jobs that can pay off said debt. In an in-depth piece on for-profit law schools that focused heavily on InfiLaw, the Atlantic attempted to pinpoint the company's motivation:
A Florida Coastal faculty member who is familiar with the business strategies of private-equity firms told me that, in his view, the entire InfiLaw venture was quite possibly based on a very-short-term investment perspective: the idea was to make as much money as the company could as fast as possible, and then dump the whole operation onto someone else when managing it became less profitable.
Regardless of whether or not those are actually InfiLaw's practices, actually taking over Charleston Law could lead to serious changes at the school.
That's where this all gets very, very messy. Those two entities that have to approve the sale–the ABA, and the South Carolina Commission on Higher Education (CHE)–have a few different moving parts. It's a confusing mess, but essentially what's happened is that one committee of the ABA, the accreditation committee, has approved the sale; however, another part that needs to give its approval, the Council of the Section of Legal Education and Admissions to the Bar, has deferred making a decision. They're waiting on the CHE, who have their own set of problems with which to contend.
Now CHE is caught in the middle. One of Charleston Law's founders, a man named Ed Westbrook, doesn't want the school sold to InfiLaw. He's in the minority, as the other two founders want to see it go to InfiLaw. Westbrook claims that he can successfully operate it as a non-profit, without taking any money from the state. He's made vague statements about using his own money to do so. Now, both Westbrook and his lawyers, and InfiLaw and its lawyers are reaching out to the CHE with conflicting proposals and information. Westbrook's optimism is admirable, I guess, but Charleston Law as it stands seems a bit like a sinking ship. For example, the school's new President, Maryann Jones stepped down in November. She lasted in the job for a grand total of eight days. Her reasoning was described in an email she sent when she resigned:
The level of vitriol, with all sides making me a lightning rod for an unfortunate situation that was not of my making, makes this truly a situation that I am unwilling at this stage of my life to undertake.
Back to the CHE approval though, which appears to be the lynchpin to this deal. Want to be even more confused? There are 15 seats on the CHE. Four are vacant, and eight are being held by people whose terms have technically expired. Governor Nicki Haley is trying to fill those seats–but that would be in January at the earliest.
So, will InfiLaw succeed in its takeover of the Charleston School of Law? I have absolutely no clue. This tangled web of players, committees, and arguments is a mess–perhaps symbolic of the messy relationship between the ABA, for-profit law schools, and students. Whatever happens, it's now in the CHE's hands…and I for one do not envy them.