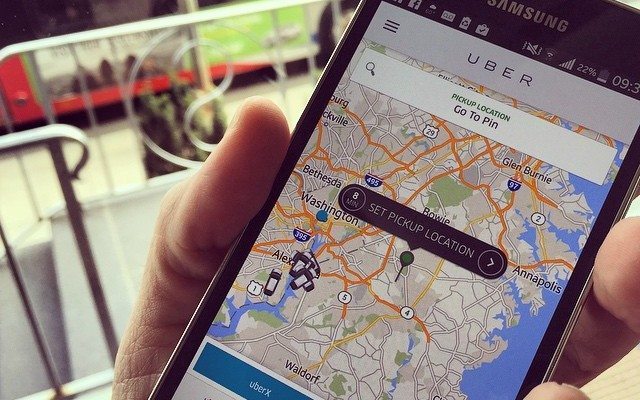 Image courtesy of [Paul Goddin via Flickr]
News
Uber Users: Beware of Tracking Software
By
|
Does privacy even exist in the digital world these days? Many argue no, as more and more companies use elaborate software to track their customers' precise locations, spending habits, facial features, and shopping preferences. Uber is just the latest company to come under fire for going "big brother" on its customers.
Uber recently announced a plan to track customers through the app, even if the user shuts it off, deletes it, and even turns off the GPS function. Last Monday, a formal complaint was filed against Uber by the nonprofit research group Electronic Privacy Information Center (EPIC) at the Federal Trade Commission (FTC) in Washington, DC. This was done in an effort to get the agency to prohibit the taxi-service company from instituting these new changes.
Uber will soon be able to track your location even if you exit the app and have GPS turned off http://t.co/RZUN2EaMej pic.twitter.com/StttNhjVqr

— Business Insider (@businessinsider) June 23, 2015
These new updates are expected to take effect around July 15th, a decision that Uber announced on May 28th, although not without some serious uproar.
If you are an Uber user, your every move will soon be able to be tracked; this revelation has left many customers on edge. What's most appalling about this update is that it will let the company trace not only the whereabouts of its customers, but also everywhere that they've ever traveled while they've had the app on their phones. This is a major issue that people have with this update since the company will retain all the past location data of its consumers, with no indication when this information will be deleted, if ever.
Despite the backlash over this new policy, Uber stated that there is no support for these allegations made by EPIC. It claims that these changes in data collection are being done solely to help Uber optimize its services so that it can improve customer satisfaction. The company believes that it is completely necessary to track its customers' every move in order to provide optimal services with shorter wait times. Uber does not see any problems with this new update, nor any truth in the many complaints against it. It also claims that its customers' privacy is of its utmost concern.
Uber has a reputation for breaching the privacy of its customers, as this is not the first time that the app has been criticized by the public. It has encountered numerous lawsuits lately, such as when it was accused of tracking a customer without first receiving consent, cheating customers, and failing to meet local regulations in the United States.
Despite there being some extreme opposition to this change in the privacy policy of the app, there are some people who see the benefits of it. Some state that since this update has the potential to drastically change a customer's experience so it is worth the hassle. This update would likely help Uber to figure out where most of its customers are so it can concentrate drivers in the most popular areas.
Uber remains one of the growing giants of the tech industry, it has been valued at $40 billion even though it was created only six years ago, and it continues to grow at absurd rates. For a company that is still so new, it is imperative for it to maintain its following and to keep the public's interest. It currently provides millions of trips a day for users across the globe, and so the last thing Uber wants to do is upset its loyal customers.
Infringing on people's privacy can be quite daunting, especially for those who have secrets to hide. Americans today are very conscious of their security, and so the thought of a company having access to your exact location at all times can seem frightening. Uber claims that it will give all customers the option of whether or not to report their location data back to the company, however, this choice will not be possible to disable on all phones.
Not only will this new update track customers' locations, but it will also access users' contact lists upon approval. Uber is doing this so that it can send promotions to riders' friends and family, and to also implement its improved "split fare" feature. Communicating with a person's contacts in such a manner might even be breaking a federal law, which states that a company can't call or text people without first getting written permission.
It seems that Uber tried to keep the implications of this new update under the radar, although EPIC is not about to let it slide for violating its customers' fundamental rights to privacy. The group is outraged at this new policy change, as it stated that it finds it to be a threat to people's overall safety and privacy rights, it could create a substantial risk of harm for customers, and that it would "constitute an unfair and deceptive trade practice."
Don't people have the right to feel secure within their own devices? In an age where virtually anything can be found or performed online, people want to feel like their privacy is always being protected. There is currently no word as to whether the FTC will investigate the claims made by EPIC, although it might have to as this story continues to develop and gain publicity.