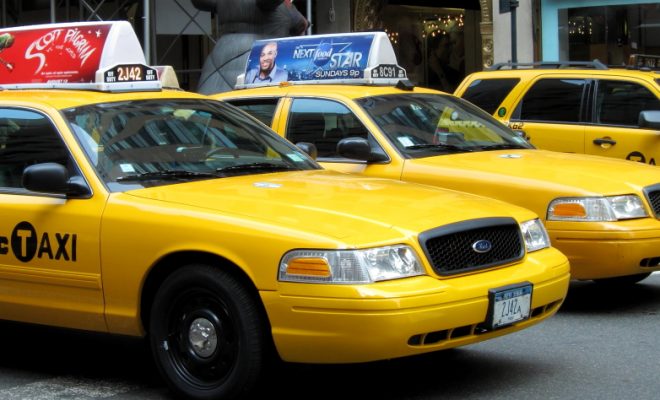 "Taxis" Courtesy of Rob Nguyen : Licence (CC BY-SA 2.0)
Technology
Uber in Turmoil: How Several Scandals Led to the Departure of its CEO
By
|
Since its recognizable logo first appeared on our phone screens in 2011, Uber has quickly risen to become ubiquitous in modern-day transportation, overtaking taxis in many cities. The ride-hailing company has cemented its status as a pillar of the sharing economy, while also battling countless lawsuits, protests, and government regulations over the years. The controversies reached a head in June 2017, when co-founder Travis Kalanick stepped down from his position as CEO. Read on for a glimpse into the events that led to Kalanick's resignation.
---
Rise to Ride-Sharing Royalty
Uber's growth as one of the world's top ride-sharing companies was swift. It easily secured several rounds of funding, and became one of the most valuable startups worldwide. Uber has yet to go public, but is valued at $70 billion.
Uber's impact on the market is cultural, as well as financial–the term "uberisation" has come to refer to other companies and industries that take after the company's business model of eliminating the middleman and connecting customers directly to service providers. And, as The Economist writes, the word "uber" has become its own verb, like Facebook or Google.
Though competitors like Lyft have slowly built up steam, Uber still dominates the market. At the end of May, Uber's U.S. market share was 77 percent, down from 84 percent earlier in the year. This decrease, experts say, is likely the effect of the seemingly endless controversies that have tainted Uber over its lifetime.
---
Early Disputes
Uber's efforts to transform the transportation market have been met with resistance from the beginning. In a 2013 class-action lawsuit, a group of drivers sued Uber for its labor practices. The suit claims the drivers have been "misclassified as independent contractors and are entitled to be reimbursed for their expenses that Uber should have to pay, like for gas and vehicle maintenance." The company agreed to settle the suit for $100 million in 2016, but a federal judge denied the settlement and the case is still ongoing.
In the U.S. and worldwide, Uber has faced major scrutiny for operating in markets without adhering to local policies and procedures that regulate cabs. In 2014, several protests against the company broke out across Europe. These protests came to a head in 2015, when taxi drivers locked down the city of Paris, blocking roads, burning tires, and attacking drivers. The drivers considered Uber to be a form of "economic terrorism."
Uber is currently banned in Italy, Hungary, Denmark, and several other nations, in addition to some U.S. cities. In August 2016, Uber sold its presence in China to competitor Didi Chuxing, freeing it up to expand in other global markets. Today, the company operates in over 80 countries.
Over the years, Uber has come under fire for funneling millions into opposition research, both in plots to push out Lyft, its primary U.S. competitor, and to fight negative press coverage by "digging up dirt" on journalists. While these scandals have tarnished Uber's image, 2017 has been an especially turbulent year for the company.
---
2017: A Year of Controversy

Uber's controversies seemed to pile up at the beginning of 2017. When President Donald Trump's travel ban was announced in January, protesters gathered at airports nationwide. While the New York Taxi Workers' Alliance ceased operations at JFK to participate in the protest, Uber continued picking up customers, fueling backlash from many who said the company was profiting from Islamophobia and deportation. The company later apologized, but not before the hashtag "#DeleteUber" began trending and rival company Lyft announced its support for the protesters, promising to donate $1 million to the American Civil Liberties Union.
Toxic Culture
In February, Uber engineer Susan Fowler published a blog post documenting several incidents of sexual harassment during her time with the company. The post went viral and prompted Kalanick to hire former U.S. Attorney General Eric Holder to investigate the claims. In June, Holder presented the board with a report of the findings and series of recommendations to improve Uber's workplace. One of the recommendations was to strip Kalanick of some of his power. Also in June, Uber fired 20 employees after an investigation unrelated to Holder's revealed more evidence of bullying, harassment, and a "toxic" company culture.
Skirting the Rules
A few days after Fowler's viral post was published, Uber was hit with a lawsuit from Waymo, a self-driving car offshoot of Alphabet, Google's parent company. Waymo alleged that Uber stole trade and patent secrets, focusing on actions by Anthony Levandowski, a former Google engineer. Levandowski was fired from Uber in May, and a new filing in June revealed that Kalanick knew Levandowksi had possession of data from Google long before the Waymo suit was filed.
In March, The New York Times reported on Uber's use of a technology called Greyball, which it employed primarily outside of the U.S., allowing drivers to evade local authorities in markets where the ride-hailing service had been banned. The Department of Justice launched an investigation in response.
Kalanick's Tarnished Image
Kalanick, as an individual, faced even more scrutiny in late February after he was caught on video in a profanity-laden argument with an Uber driver over the company's falling fares, which the driver said made him "bankrupt." After the video surfaced online, Kalanick publicly apologized.
"To say that I am ashamed is an extreme understatement," Kalanick wrote in a company-wide email. "I must fundamentally change as a leader and grow up. This is the first time I've been willing to admit that I need leadership help and I intend to get it."
Several years ago, Kalanick also came under fire for referring to his company as "Boob-er" in an highly-scrutinized GQ interview, saying that his desirability among women has increased since starting Uber.
---
Kalanick Resigns
A week before officially resigning, Kalanick announced an indefinite leave of absence from Uber leadership. This was in response to Holder's recommendation that the company re-evaluate some of Kalanick's responsibilities or distribute them among other members of leadership. In a memo to employees, Kalanick also said the leave of absence would give him time to grieve for his mother, who was killed in a boating accident weeks earlier.
Breaking: Uber CEO Travis Kalanick memo to employees on his leave of absence. Full text. @NPR pic.twitter.com/tCE4bZ2C0u

— Aarti Shahani (@aarti411) June 13, 2017
The temporary departure did not satisfy Uber's investors, however. On June 20, two venture capitalists presented Kalanick with a list of demands, including his resignation. The letter was from five of Uber's major investors, including Benchmark and the mutual fund giant Fidelity Investments. By the end of the day, his departure was made public.
Kalanick's resignation isn't the first indication of instability among the company's top brass. Including the position of CEO, three of Uber's eight leadership positions are currently vacant. Several other high-level positions and other leaders are also currently under scrutiny, and four out of seven board members, including the board's only two women, are relatively new to the company.
---
What's Next for Uber?
In spite of the recent controversies, Uber is continuing to expand and reshape its image. Uber added an in-app tipping function in June, much to the delight of drivers and customers, and the company's self-driving projects are continuing to improve, even in the wake of the Waymo lawsuit. The company also streamlined its app to allow users to hail rides for others more easily, letting users call an Uber for a drunk friend or aging relative.
Unfortunately, the scandals haven't stopped altogether. Less than 10 days after Kalanick's resignation, civil rights activists filed suit against Uber in federal court for violating the Americans With Disabilities Act and the District of Columbia's Human Rights Act by not accommodating passengers with non-collapsible wheelchairs.
---
Conclusion
Even with the departure of Kalanick, the rest of this year could be make or break for Uber. Kalanick still retains a seat on Uber's board, as well as voting rights in company decisions. Some think he could be leaving the door open to return to the helm in the future. Murmurs of Uber going public are also ongoing. Uber's market share decrease and 2016 earnings loss could still hold up an IPO, but economists and experts think Kalanick's resignation is a good sign for the company's public trading potential. All eyes will remain on Uber to see if the ride-sharing giant can continue to grow, while transforming its leadership and company culture.