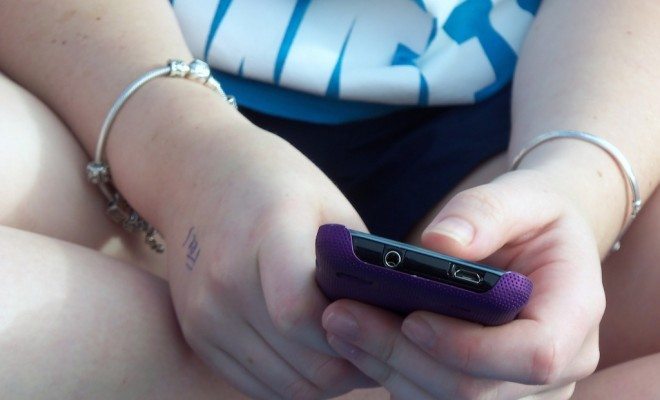 News
The Dark Side of Snapchat
By
|
Snapchat is a smartphone app designed to show timed pictures and videos that are not permanently saved to the recipient's phone. The amount of time for which a recipient can view a photo is dictated by the sender, but is somewhere between 3-10 seconds. Usually the app is used for quick but relatively silly communication with friends–pet pictures, selfies, or just a life update in photo form.
Snapchat has received some criticism for possibly making "sexting," the sharing of suggestive or explicit photos, easier. Because pictures automatically disappear after a few seconds, it may be easier for young people to send inappropriate photos without fear of later distribution. The problem is that it's not that hard to save snapchats–there are apps to secretly save snapchats. Or for the more brazen, it is possible for a recipient to screenshot a snapchat, but the sender does receive a notification. You can easily take a picture of a snapchat on one phone with another phone or camera. For the most tech-savvy, there can be ways to access secret files on a smartphone. There have been dozens of cases of people posting their sexting partner's compromising snapchats to the internet.
Now in all fairness, the trend has not been quite as widespread as feared. A recent poll found that only about 15% of Snapchat users admitted to using it for sexting purposes. The creators of Snapchat won't reveal how many people have downloaded their app, but given its popularity, it's safe to say that 15% of users is probably a fairly large group.
Now, if snapchat was just an app used by adults, this wouldn't be too problematic. Moral and ethical issues aside, it is legal for adults to send nude photos back and forth, if they so wish. The problem that arises with Snapchat is that it may be being used by teenagers to send pictures back and forth, which can be considered distribution of child pornography.
There have been actual alleged cases of child pornography sent through Snapchat. In November, ten boys near Montreal aged 13-15 were investigated for peddling child pornography. They convinced their girlfriends to send them nude or partially nude photos, and then shared them among themselves. The girls did not know that the pictures were being distributed. The boys are due back in court on January 20th.
Teen-to-teen transmitted photos are one thing. But now an even creepier use of Snapchat has resulted in a new arrest. This week in Missouri, a mother has been charged with misdemeanor child endangerment after she sent snapchats of both herself and her 14-year-old daughter topless. She claims that she didn't take the picture herself, but one of her other daughters did. That claim is contentious, because according to Prosecutor Tim Lohmar, it seems that the woman and her daughter are posing for the photo.
There have also been cases of adults sending explicit snapchats of themselves to minors, such as Joseph Johnson, a middle school teacher in Florida.
Snapchat might make sexting more guilt-free, but I can't imagine it makes it that much so. It really is pretty easy to save a picture sent through the app. I think the bigger issue at play that warrants discussion is the use of social media to send inappropriate content. As children get smartphones, tablets, or computers at younger and younger ages, lines become fuzzier. The truth of the matter is that teens will always push the envelope, and science tells us that they're quite not as good at making sound decisions as adults.
While snapchat is undoubtably fun, it can be dangerous, and teens sending pictures among themselves can have serious consequences. The Missouri woman being charged absolutely deserved it, but as for the teens, I think the issue is a little fuzzier. I know I've cautioned this before, but I truly think that as our technological abilities change, our laws need to keep pace.
—
Anneliese Mahoney (@AMahoney8672) is Lead Editor at Law Street and a Connecticut transplant to Washington D.C. She has a Bachelor's degree in International Affairs from the George Washington University, and a passion for law, politics, and social issues. Contact Anneliese at amahoney@LawStreetMedia.com.
Featured image courtesy of [Summer Skyes 11 via Flickr]