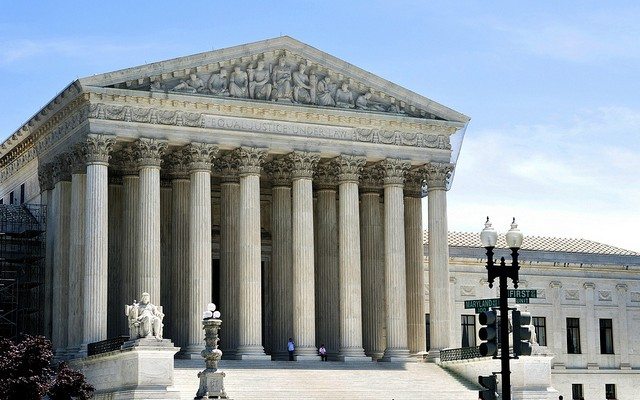 Image courtesy of [Pete Jordan via Flickr]
News
SCOTUS Cases to Watch in 2015
By
|
It's a new year, and I for one am excited to see what it will bring. No matter what, there will definitely be a lot of legal issues to discuss, debate, and bring changes to all of our lives. The five cases below are the top five to watch in 2015; some have already appeared before SCOTUS and await decisions in 2015, while others will be heard throughout the year. Here are five fascinating Supreme Court cases to watch in 2015.
Anthony Elonis v. United States
Law Street has actually been covering this interesting case for a while–check out our coverage of the case, the University of Virginia law clinic that's gotten involved, and the all the legalese behind it. The reason we've followed it so closely is because it really is fascinating. Anthony Elonis was convicted of threatening multiple people, including his wife, an FBI agent, the police, and a kindergarten class. But these weren't threats in the classical sense. They were written on his Facebook page in the form of rap lyrics. He claims the posts are art, protected under the First Amendment, and that he never intended to hurt anyone. It will be up to the Supreme Court to decide if such intent needs to be shown when convicting someone of making threats. The case was heard on December 1, 2014, but the court has yet to rule.
King v. Burwell
In King v. Burwell, SCOTUS will yet again be asked to weigh the Affordable Care Act. This time, it's all about the tax subsidies, and weirdly, the central question in really depends on one word: "state." The way that the ACA reads, in order for an individual to qualify for a tax subsidy, he needs to be receiving healthcare "through an exchange established by the state." So, can people residing in states that haven't set up their own exchanges, but instead rely on the federal program, get those tax subsidies? The IRS certainly thinks so and has been granting the subsidies. It's an argument based pretty much on semantics, but it could have a huge effect on the ACA itself. This case will be heard in March.
Peggy Young v. United Parcel Service 
This case will ask the Supreme Court to weigh in on how pregnant employees are treated. Peggy Young, formerly a delivery driver for UPS, is arguing that the company violated the Pregnancy Discrimination Act (PDA). The PDA says that pregnant workers should be treated the same as any other worker who is "similar in their ability or inability to work." Young and her lawyers argue that other employees who sustain temporary injuries or something of the like are moved to other positions, while she was forced to take unpaid leave. UPS claims that those other workers are given different jobs based on policies that don't apply to Young, and she was treated the same as she would have been had she sustained an injury out of work. It will be up to the Supreme Court to decide who's in the right here. The case was just heard in December 2014; an opinion is forthcoming.
Holt v. Hobbs
Holt v. Hobbs will require the justices to look into prison procedures that prevent inmates from growing a beard in Arkansas. The plaintiff, Gregory Holt, wants to be able to grow a half-inch beard in accordance with his Muslim faith. The state is arguing that it could be used to smuggle drugs or other contraband. SCOTUS will have to rule on whether or not those prison procedures violate the Religious Land Use and Institutionalized Persons Act (RLUIPA). The question that the justices will consider is whether or not there's a compelling enough government interest to prevent Holt from expressing his religion. The case was heard in October 2014; the opinion will be issued this year.
Alabama Legislative Black Caucus v. Alabama
This case centers on the practice of gerrymandering. The justices will have to decide whether or not it was illegal for Alabama to redraw the districts in 2012 after the Census in a way that packed black voters into particular districts. The Alabama Black Caucus says that it relied too much on race when drawing those districts. While partisan gerrymandering is usually legal, racial gerrymandering is not–so the justices will have to decide which actually happened here. This case was heard in November 2014; the opinion is expected in the coming months.