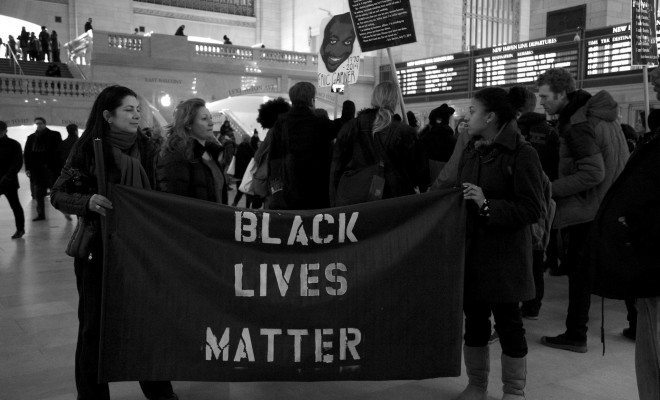 Image courtesy of [Tina Leggio via Flickr]
News
The Death of Sandra Bland: More Questions Than Answers
By
|
Sandra Bland was found dead in a Texas jail cell from what authorities believe was suicide. But friends and family of the victim are outraged, and claim that she had no reason to take her own life. The entire story of her arrest and subsequent death raise a lot of questions about her treatment in the justice system.
"I do suspect foul play," a friend, Cheryl Nanton, told ABC 7. "I believe that we are all 100 percent in belief that she did not do harm to herself." Bland, 28, had just landed her dream job, when she was arrested for allegedly assaulting an officer, police said.
On June 29, Bland drove down to Texas from Illinois to begin a new job with her alma mater, Prairie View A&M. On July 10, police stopped Bland just outside of the school's campus for failing to signal while changing lanes. Police officers claim that during this stop, Bland became combative, and was thrown to the ground, arrested, and charged with "assault on a public servant."
But, the recently released video from the policeman's dashboard camera show that the stop that led to her arrest was anything but routine.
While Bland is being combative in the above video, she had plenty of reason to be. The situation escalated rapidly–but her questioning of the police officer was valid. In these situations, people sometimes say the best thing to do is be polite and respectful to police officers so they have no reason to accuse you of anything, but that shouldn't preclude someone who is pulled over from asking questions about the reason why. This was not a routine traffic stop, and that is very clear. He was extremely forceful with Bland, to the point where you can hear her wincing at the pain he is causing her. The video below captures their interaction after he removed her from the car and it doesn't seem to get better.
"After he pulled her out of the car, forced her and tossed her to the ground, knee to the neck, and arrested her," says her friend Malcom Jackson.
In the second video, Bland is heard saying, "You just slammed my head into the ground. Do you not even care about that? I can't even hear!" Then, as she is taken into custody, she repeats, "You slammed me into the ground and everything."
Reports claim that jailers saw Bland at 7 AM Monday when they gave her breakfast, and again at 8 AM when they spoke to her over the jail's intercom about making a phone call. She was found in her cell one hour later. Waller County Sheriff's Office Captain of Patrol Brian Cantrell claimed that Bland strangled herself with a jail cell trash bag. CPR was reportedly done immediately, but she was pronounced dead shortly after.
Waller County Sheriff Glenn Smith, who made the first public announcement about Bland's death, was suspended for documented cases of racism when he was chief of police in Hempstead, Texas in 2007. After serving his suspension, more complaints of racism came in, and he was fired from this position shortly after. Smith made his way to Waller County, where he was then elected as sheriff of Waller county. While this connection to her death is not certain, there are questions about the role that her race could have played in the incident. 
Bland's family held a news conference last Thursday afternoon in the Chicago Loop, but no details have been released. They are firm in their belief that foul play is suspected, and looking for answers. "She was planning for the future, and she came here to start for that future, so to say that she killed herself is totally absurd," said her friend Lavaghn Mosley. 
But her friends and family are not the only ones who suspect something is amiss. With the popular hashtag #WhatHappenedtoSandraBland trending on Twitter, there are several people wondering what happened to Sandra Bland in that jail cell.
Reporters are working around the clock tonight to find out if Sandra Bland's babysitter's boyfriend's cousin ever broke a law. #SandraBland

— JRehling (@JRehling) July 16, 2015
Dear white people, any of you EVER been pulled over for a lane change? Did you end up dead? #SandraBland #WhatHappenedToSandraBland

— Jessica Fish (@Fishica) July 16, 2015
Don't tell me that #SandraBland could be my sister, friend, mother. It is enough that she was a human being! #WhatHappenedToSandraBland

— Ntombizikhona (@valavoosh) July 16, 2015
You stay. You run. You submit. You resist. It doesn't matter. They will kill you anyway. Your skin is black. #SandraBland #BlackLivesMatter

— Amarlie (@marabout40) July 16, 2015
These questions make a lot of sense, and Bland's story does fit into the continued narrative of #BlackLivesMatter, because it highlights the way that our society continues to treat Black lives as lesser than others. What needs to happen to ensure that all of our citizens are safe when in the hands of the justice system? After all, it didn't matter how loud Bland screamed, because she still wasn't being heard.