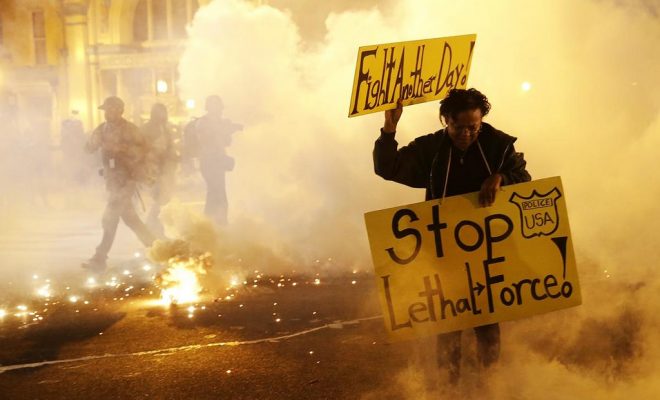 Image Courtesy of [Jordi Bernabeu Farrús via Flickr]
News
Police Standoff in Baltimore Kills Mother, Wounds 5-Year-Old Son
By
|
A standoff with the police ended in the fatal shooting of a 23-year-old woman in Baltimore on Monday. Now authorities say she tried to live stream the event to Facebook and Instagram as it was happening. Her 5-year-old son was shot in the arm and is being treated at hospital.
Three police officers arrived at the apartment of Korryn Gaines and her boyfriend Kareem Courtney on Monday to serve them warrants–Gaines for failing to appear in court over a traffic violation, and Courtney for an assault case. But when the officers entered the apartment, Gaines threatened them with a shotgun while holding her son, Baltimore police Chief Jim Johnson told CNN on Tuesday.
What Happened
According to Johnson, the police retreated to the hallway. During the standoff, Courtney left the apartment with a 1-year-old toddler and was arrested. After that, the standoff with Gaines continued for a couple of hours, as Gaines captured and streamed the exchange on Facebook. She then said she would kill the police officers unless they left. Gunfire erupted between both sides and Gaines was fatally shot. It is unclear why the police fired the first shots instead of backing off or waiting for backup.
The question is why there is no body camera footage from the cops, since police officers in Baltimore have been equipped with body cams since May.
The Background
According to NBC, Gaines was pulled over in March for having a piece of cardboard fixated on her license plate that read: "Any government official who compromises this pursuit to happiness and right to travel, will be held criminally responsible and fined, as this is a natural right to freedom."
She failed to appear in court for the March incident, which is why police came to her home on Monday. However, it is also questionable why three police officers would be required for a non-violent intervention like this.
Supporters of the Black Lives Matter movement reacted strongly on social media.
Police had at least 10 non lethal options they could've used with #KorrynGaines.

Guess how many they used before shooting her?

ZERO.

— Shaun King (@ShaunKing) August 3, 2016
But critics have questioned why Gaines should be labeled a hero when she threatened police officers with a gun while having her 5-year-old by her side.
Black privilege: the ability to use a 5 year old as a human shield against the police and still be labeled a hero by CNN.#KorrynGaines

— Right Wing Raven (@KazeSkyz) August 3, 2016
For those of you who claim the police had no other choice, but to shoot. #KorrynGaines https://t.co/UAYuNICQoU

— Sharhonda Bossier (@BossierS) August 2, 2016
Police asked Facebook and Instagram to deactivate Gaines's accounts during the standoff to facilitate the negotiating. Reportedly, her followers asked her to not comply with the officers. The Facebook video was removed, but the short videos she posted before that on her Instagram account are still online.
The spokeswoman for Baltimore County Police Elise Armacost told reporters that she didn't think the shooting had anything to do with race.
"There was every attempt by the negotiators to calm her and encourage her to leave the apartment peacefully," she said. "I think if the same situation evolved with a person of any race or ethnicity we would have the same outcome."