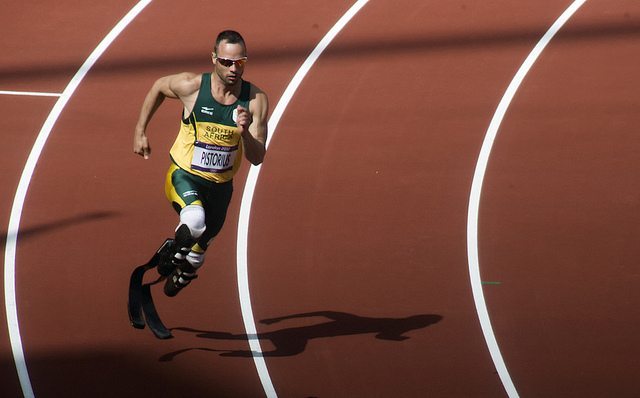 Image courtesy of [Jim Thurston via Flickr]
News
Pistorius Verdict Opens Dialogue About Defense, But is South Africa Listening?
By
|
The strange, long, and twisted tale that was the death of Reeva Steenkamp, girlfriend of Olympic athlete Oscar Pistorius, has started to reach its close. Pistorius was found guilty of culpable homicide in the Steenkamp case.
Oscar Pistorius is a South American athlete who made history by being the first double amputee in the Olympic Games, and has an incredibly impressive Paralympics resume.
But on the morning of February 14, 2013, that all changed. Pistorius shot and killed his girlfriend Reeva Steenkamp through the locked bathroom door. She was a South African model, and the pair had been dating for three months. Pistorius admitted from the beginning that he had shot her, but claimed that he had thought that she was an intruder.
The facts that came out during the subsequent trial were dark. In addition to the being put on trial for killing Steenkamp, Pistorius also faced two charges for illegal handling of his firearms, and a fourth charge for illegal possession of some of the ammunition that was found in his home after Steenkamp was killed.
During the trial, a break was taken so that Pistorius could be evaluated by doctors and receive a psychiatric evaluation. He has been diagnosed with generalized anxiety disorder, which was used by the defense to explain his concern about an intruder in his home on the morning of February 14. Merryll Vorster, a forensic psychiatrist who testified during the trial, explained that Pistorious' anxiety disorder was most likely why he always slept with a firearm under his pillow. Vorster also explained that Pistorius did not have his prosthetics on when he shot at the door, indicating that a fight mechanism may have been ignited in Pistorious — he literally could not flee.
Judge Thokozile Matilda Masipa stated on Thursday that Pistorius was not going to be found guilty of murder, but left the other charges for Friday.
The culpable homicide verdict, announced Friday, translated into American justice system terms, essentially means that he was found guilty of involuntary manslaughter. He acted negligently when he shot four shots through his closed door without knowing who or what was on the other side. He won't actually be sentenced until next month, and what his sentence will actually end up being has a huge range. He could serve up to fifteen years in prison, or a sentence that is significantly shorter. Judge Masipa has received significant criticism for her ruling.
Given that no one will really ever know what happened in Pistorius' house that fated Valentine's Day morning, the verdict is understandable. Yet there is still a lot of backlash from those who believe it's not quite enough. And Pistorious' actions after receiving the verdict don't do too much to help him. He has said that he's going to write a book to tell his side of the story, and the South African Olympic Committee has said he is free to run again once he finishes his sentence.
However, the good thing about these much-watched celebrity trials is that occasionally they are high-profile enough to create a national conversation. As Steenkamp's father put it:
This case in a very strange way has opened a window into people's lives in South Africa, the way they feel they need to defend themselves with extreme force. People need to think about this.
The story was disturbing, the trial concerning, and the death of Steenkamp incredibly tragic. Yet trials like this do have the opportunity to say something for a nation; hopefully South Africa is listening.