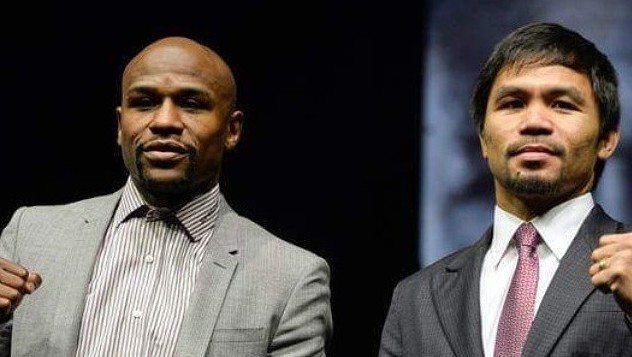 Image courtesy of [Derrick Lee via Flickr]
News
Will Pacquaio's Real "Fight of the Century" Be a Legal Battle?
By
|
Ever since Floyd "Money" Mayweather defeated Manny "Pac-Man" Pacquiao in the supposed "Fight of the Century," boxing's fans have wondered if Mayweather would squash retirement rumors for a future Pacquiao rematch. However, the Filipino welterweight might be facing perjury charges instead of a rematch, after news broke that he lied about an existing severe shoulder injury on his pre-fight medical questionnaire.
Manny Pacquiao could be prosecuted for perjury after failing to disclose shoulder injury http://t.co/jrM7jV8jVS pic.twitter.com/7kVf3rNbUV

— Telegraph Sport (@TelegraphSport) May 5, 2015
On his questionnaire Pacquiao checked "no" for a question asking whether or not he suffered any shoulder injuries, but after the fight he complained that shoulder pain had inhibited his performance during the fight. Monday, Pacquiao confirmed that he had suffered a severe tear in his rotator cuff that would require surgery and 9-12 months of rehabilitation. As it turns out, Pacquiao had been suffering from the severe shoulder injury since early April, but chose to fight injured in lieu of forfeiting a $300 million pay day split with Mayweather. According to the New York Daily News, Cisco Aguilar, the Nevada Athletic Commissioner chairman, said late Monday:
Disclosure is a big thing for us, and honesty. The commission at some point will have to discuss [Pacquiao's medical questionnaire]. I've got to run through the process with the [Nevada] Attorney General [Adam Laxalt]. But they do sign that document under the penalty of perjury."
Because he lied on his medical form, it's rumored that the Nevada Athletic Commission could end up slapping Pacquiao with a hefty fine or even issue him a suspension. There could also be a licensing issue if Pacquiao's lawyer signed the fraudulent questionnaire.
But that's not all Pacquiao has to worry about. According to Time magazine, Stephane Vanel and Kami Rahbaran, "on behalf of all persons who purchased tickets; purchased the pay per view event or who wagered money on the event," named Pacquiao in a $5 million class action lawsuit that claims damages for those who "were victimized by [the] Defendants' failure to disclose and to cover up the injuries of Defendant Pacquiao." There is huge possibility that Pacquiao could end up having to pay, reports the New York Daily News, pointing out:
There is case law that supports a possible class-action suit, where ticket holders could argue they didn't get what was promised – had Pacquiao been 100% healthy, it could have been a more entertaining fight.
Apparently, fight officials weren't made aware of Pacquiao's injury until just hours before the scheduled match when he asked if he could take an anti-inflammatory shot, which was approved by the U.S. Anti-Doping Agency, to alleviate his shoulder pain.
Mayweather has hinted he'd be down for a rematch, but the real question is whether or not people would even be interested. Poor performance, insane pay-per-view costs, and Pacquiao's controversy may have very well been the final nails in professional boxing's coffin.