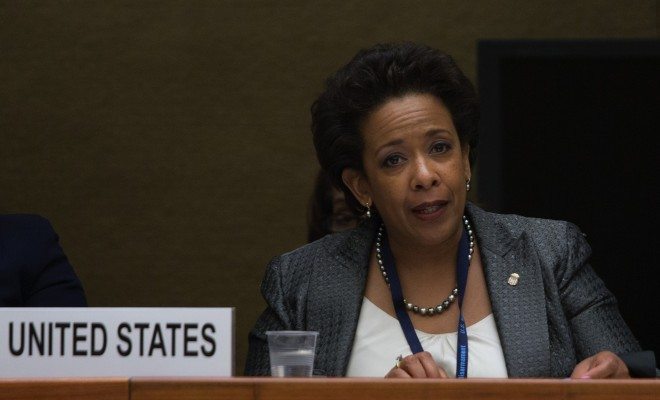 Image courtesy of [United States Mission Geneva/Eric Bridiers via Flickr]
News
Obama Lashes Out at Senate Over Loretta Lynch Confirmation Hold Up
By
|
One of the markers of the current political climate is the animosity between President Obama and Congress. One of the manifestations of this climate can be seen in the fact that Loretta Lynch's nomination for Attorney General has continued to languish in the halls of the Senate. If his remarks at a recent press conference are any indication, President Obama has had enough.
Loretta Lynch was nominated for the position of Attorney General nearly six months ago on November 8, 2014, but her nomination has been held up in the Senate since that point. There aren't really any substantive reasons though, as no one seems to have any objections to Lynch's qualifications for the job. While there are some concerns over her opinions on President Obama's immigration reform, it seems like she'll eventually be confirmed. It's just a matter of when at this point.
The when is difficult though, as her nomination is being held up until a bill on human trafficking is settled, according to Senate Majority Leader Mitch McConnell. Democrats, however, object to the bill because it contains a provision that prevents any money from the crime victims' compensation fund from being spent on abortion services. Not only do many Senate Democrats object to the provision on moral grounds, they also claim that the Republicans surprised them by adding that provision to the bill without consulting them. Senator Dick Durbin (D-IL) stated,
I don't know how that happened or who was the author of it. But the fact is, the bill that is on the floor today has a provision in it that we were told would not be included.
However, until this matter is solved, McConnell has said that they won't vote on Lynch's nomination. He's framed it as a matter of priority–it's important to finish a bill that will help trafficking victims before moving on to Lynch's nomination. But it's become a game of political chicken, and her nomination is caught right in the middle.
A sense of frustration and exasperation is exactly what the President expressed in a press conference Froday when speaking about the hold ups to the Lynch nomination. He emphatically stated,
Enough. Enough. Call Loretta Lynch for a vote, get her confirmed, let her do her job. This is embarrassing. There are times where the dysfunction in the Senate just goes too far. This is an example of it.
Regardless of Obama's impassioned statements, it's highly doubtful that his remarks will have any effect on the GOP Senators' actions. Especially after the fights over the Iran deal and Obama's immigration reform, there's no real lost love between the executive and legislative branches. Lynch's nomination will probably remain in limbo, at least for now.