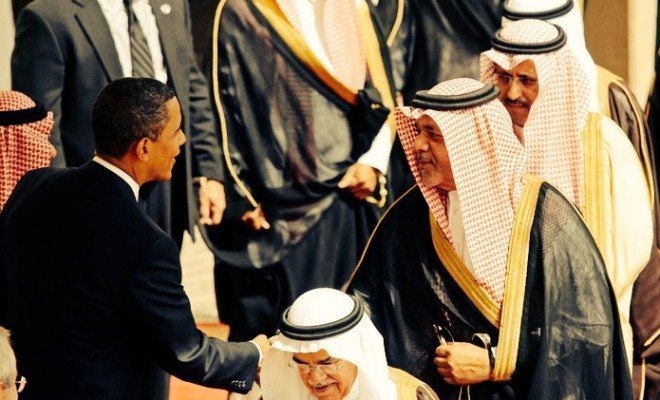 Image Courtesy of [Tribes of the World via Flickr]
News
Obama Doesn't Want Families To Sue Saudi Arabia Over 9/11
By
|
A piece of legislation introduced in Congress could allow families of the victims of 9/11 to sue Saudi Arabia for its potential involvement in the 2011 attacks.
The Justice Against Sponsors of Terrorism Act, sponsored by Sen. Chuck Schumer (D-NY), was passed unanimously by the Senate last year but was not voted on by the House; it was reintroduced into Congress this past September. Suing foreign governments is currently against the law, but this bill would allow for certain provisions to be weakened so that countries could be held responsible for their involvement in terrorist activities. This month, the bill came back into the spotlight after a "60 Minutes" investigation into the classified "28 pages" from the 9/11 Commission Report, which reportedly shed light on official Saudi support for the hijackers responsible for the attacks. The segment featured interviews of Former Senator Bob Graham and various other officials who reiterated support that these documents be declassified.
In an interview with Charlie Rose that aired this week, President Obama stated his opposition to the 9/11 bill, saying that it was against U.S. policy to allow such lawsuits against countries:
This is not just a bi-lateral U.S.-Saudi issue. This is a matter of how generally the United States approaches our interactions with other countries. If we open up the possibility that individuals in the United States can routinely start suing other governments, then we are also opening up the United States to being continually sued by individuals in other countries, and that would be a bad precedent…
The bill also has national security and defense officials concerned that it would open up a can of worms for the prosecution of U.S. officials and diplomats, as well as place blame on the wrong parties for the 9/11 attacks.
Support or opposition for the bill has not fallen along partisan lines: contrary to Obama's criticism of the bill, both Hillary Clinton and Bernie Sanders voiced their support of the bill while campaigning in New York earlier this week. GOP leaders such as Senator Lindsey Graham and Speaker Paul Ryan have been in actual agreement with the President for once, working with the White House to kill the bill.
.@HillaryClinton defends her support of @SenSchumer 9/11 bill "I stand with Senator Schumer on this" pic.twitter.com/NA6AX5nFlj

— Tamara Gitt (@tamaragitt) April 18, 2016
.@SenSchumer bill to let 9/11 families sue Saudi if tied to attacks becoming political football-@BernieSanders take: pic.twitter.com/Zgab4dABlW

— Molly O'Toole (@mollymotoole) April 17, 2016
Meanwhile, the timing of these developments has made for a pretty awkward presidential visit to Saudi Arabia for Obama this week. The Guardian reports that the trip was "noticeably low-key" and hinted at a "mutual distrust" between the two allies. It also appears that the bill remained an elephant in the room during his visit: the White House told the press on Thursday that it never even came up in Obama's meetings with the Saudi king.
The relationship between the two countries has already been on the tense side lately, but Saudi Arabia hasn't exactly responded well to the latest round of threats against it. The country's foreign minister allegedly threatened to sell up to $750 billion in American assets, which would have strong economic repercussions for both states. These current developments will prove to be yet another test for a tumultuous and controversial alliance.