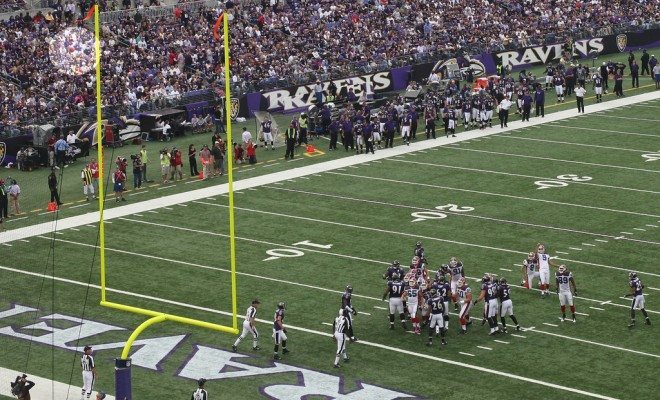 News
Recent Suspension Reveals NFL's Inconsistency in Punishments
By
|
Punishments often don't fit the crime, but cases of overly lenient or harsh sentences are especially prevalent in the world of the rich and famous. The NFL in particular has received a lot of attention for its recent punishments, as many see them to be inconsistent. While it may be true that the criminal justice system treats pro football players differently than the average American, much of the recent outrage is focused on the NFL's internal system of discipline. Athletes in the NFL can commit the same crimes and often receive completely different punishments.
One of the most recent cases involved Ray Rice, a star running back for the Baltimore Ravens. Video cameras captured Rice beating his former fiancée, Janay Palmer, unconscious after dragging her out of an elevator. His punishment for this heinous act was recently revealed by the NFL: Rice will be suspended for two games.
If Rice were not a professional football player, his aggravated assault may have been considered a felony, punishable by up to 25 years in a Maryland state prison. Instead Rice was placed in a diversion program for first time offenders and does not face any prison time. His status as a famous athlete instead of an average Joe seems to have led to his evasion of prison time and a very lax punishment from the NFL.
To contextualize the absurdity of his recent punishment, one must look at other examples of crimes committed by NFL athletes. Another similar case that vastly juxtaposes Rice's is that of Daryl Washington, a linebacker for the Arizona Cardinals. Washington, like Rice, assaulted his girlfriend, yet received a much harsher penalty of one year of supervised probation. He later got a one year suspension for substance abuse.
Clearly, there is no uniformity dictating the type of punishments doled out to NFL athletes. Their punishments fall at two extreme ends of a spectrum–either far too harsh or far too lenient. Punishments for drug violations in particular have proven to be one area that demonstrates the league's use of "far too harsh" sentences. Last year, LaVon Brazill received a four game suspension for violating the league's drug policy by reportedly smoking marijuana. Brazill recently violated this policy a second time, for which he was suspended for an entire year. His most recent punishment also prompted his release from the Colts entirely.
So, let's compare this to Rice's case:  Rice was given a two game suspension for beating his wife. On the other hand, Brazill's first offense for smoking a drug that has been decriminalized or legalized in many states, yielded a suspension that was twice as long, and his second violation left him without a job. While assault and drug use are obviously very different crimes, this kind of disparity doesn't seem to add up.
In the last year alone, at least 14 players were suspended by the NFL for either substance abuse or performance-enhancing drug use. None of the aforementioned players received less than a four-game penalty. One of them, Indianapolis Colts linebacker Robert Mathis, was suspended for four games by the league for taking a fertility drug.
There are countless more examples of confusing and disturbing punishment inconsistencies. In January 2013, a player for the Indianapolis Colts was kicked off the team after being charged with a misdemeanor simple battery. In February of 2013, Chicago player J'Marcus Webb was arrested for possession of marijuana and all charges were later dropped. The NFL said they would "look into the charges," but did not end up doling out a punishment. In contrast, two players for the New York Jets were cut from the team for possessing small amounts of the same drug.
Fans have expressed outrage towards the inconsistency of punishments given by the NFL, yet the league maintains that its punishments are consistent. In order to establish true uniformity and ensure that punishments properly fit the crime, the NFL and its players'  association need to reevaluate their current policies and punishment guidelines. Otherwise, these all-over-the-board punishments will continue to be doled out to players committing the same or similar crimes.
—
Marisa Mostek (@MarisaJ44) loves globetrotting and writing, so she is living the dream by writing while living abroad in Japan and working as an English teacher. Marisa received her undergraduate degree from the University of Colorado in Boulder and a certificate in journalism from UCLA. Contact Marisa at staff@LawStreetMedia.com.
Featured image courtesy of [Bob Marquart via Flickr]