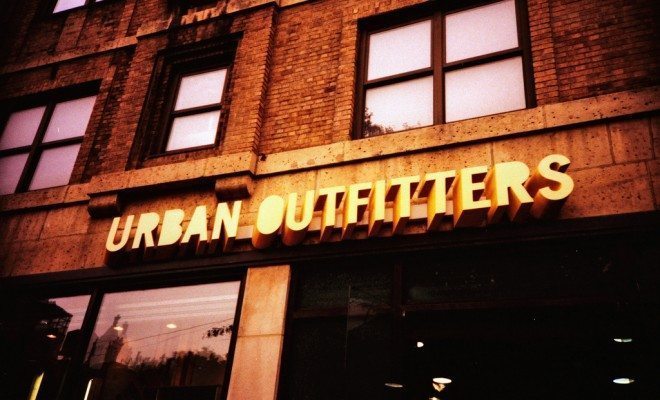 Image courtesy of [stephanie ★ via Flickr]
Fashion
Navajo Nation to Continue Lawsuit Against Urban Outfitters
By
|
Urban Outfitters: it seems like every week or so the retailer is making headlines for pissing someone off. Whether it's marketing a Kent State sweatshirt seemingly covered in blood spots, selling a shirt that proclaims "Eat Less," or asking its employees to come in and work without pay, the brand is almost always under fire. But now it may have to pay for its controversial practices–the Navajo Nation is suing Urban Outfitters for marketing some products as "Navajo"–and a federal judge just agreed to let the suit move forward.
The lawsuit was originally filed in 2012 in a U.S. District Court in New Mexico by the Navajo tribe. The tribe took issue with the products sold by Urban Outfitters that were labeled as "Navajo"–they included items such as clothing, jewelry, and accessories. Urban Outfitters used the Navajo name on products that the Navajo tribe argued were offensive–including a Navajo Print Fabric Wrapped Flask, despite the fact that the sale and consumption of alcohol are banned on the reservation located in Southwestern United States. The tribe also took issue with the "Navajo Hipster Panty."
What, you don't like Navajo patterned panties and booze flasks? Huh! "@ailsasachdev: Argh Urban Outfitters!!! pic.twitter.com/cpbhFQouti"

— Maria La Ganga (@marialaganga) September 16, 2014
It's Navajo Nation v Urban Outfitters #IntellectualProperty #trademark via @TheFashionLaw pic.twitter.com/LRJjorhqPC http://t.co/gQYhJwDQp8

— Marksmen (@MarksmenTweets) October 6, 2015
While the products were removed from Urban Outfitters after the tribe sent a cease-and-desist letter, the tribe still decided to file suit. The tribe's complaint accuses Urban Outfitters of alleged trademark violations, unfair competition, and violation of the arts and crafts act.
The act being referred to is the Indian Arts and Crafts Act, which was enacted by Congress in 1935. That act makes it illegal to sell products that imply or falsely suggest that they were made by American Indians when they were not. According to the Farmington Daily Times:
Under a 1990 amendment, tribes received the right to bring lawsuits against any person or entity who sells a product 'in a manner that falsely suggests it is Indian produced, an Indian product or the product of a particular Indian or Indian tribe or Indian arts and crafts organization.'
Additionally, the Navajo Nation has a number of trademarks that cover the use of the name "Navajo."
However, Urban Outfitters fought back against the lawsuit, claiming that the tribe couldn't show that any injury was done to it when the company used the name "Navajo." However, it was based on that claim that U.S. District Judge Bruce D. Black just ruled that the tribe does have standing to move forward with its lawsuit. So, the lawsuit will continue, and Urban Outfitters is going to have to come up with another way to avoid paying a big penalty for its use of the Navajo Nation's trademark and name. But, given its track record, I'm sure we'll see Urban Outfitters in the news again soon.