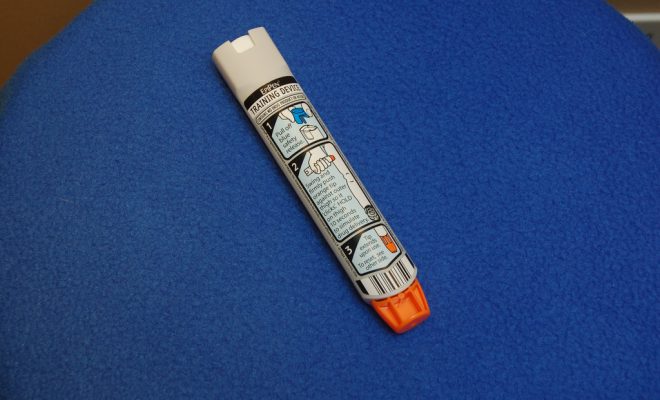 "EpiPen Auto Injector" courtesy of [Greg Friese via Flickr]
News
Mylan Will Offer Generic Version of EpiPen for $300
By
|
After last week's surge of criticism, pharmaceutical company Mylan said Monday it will offer a generic EpiPen for half the price of its branded one. The price of EpiPens, which are used for treating severe allergic reactions, has increased by more than 400 percent over the past ten years. Mylan acquired the product in 1997, when two pens were $94. Today, a two-pack costs as much as $608.
Last week, Hillary Clinton urged Mylan to lower its prices, as kids with food and insect allergies are about to go back to school and are dependent on EpiPens in case of a severe allergy reaction. The pens have a syringe that is filled with the hormone epinephrine, but it expires after a year. Many families keep several pens handy to have at school and at home.
The new generic pen would cost $300 for a pack of two. After the media attention, Mylan also said it will expand its programs that help people pay for the pens, as well as offer $300 copay cards–however these would only be eligible for the branded version of the pens. The assistance programs could be used for both.
The CEO of Mylan, Heather Bresch, defended the constantly rising prices last week, saying that the company only gets $274 from each pair of pens sold. A large chunk of money goes to insurance companies, pharmacies, and others. She also claimed that "no one is more frustrated" than her over the price increase.
Mylan's CEO responds to EpiPen price criticism: https://t.co/DHDt1bJ5WH pic.twitter.com/g92QatlexI

— Forbes (@Forbes) August 28, 2016
Social media has been in uproar over the company's greed, arguing that it puts lives in danger. Sarah Jessica Parker announced on Thursday that she's quitting as Mylan's spokesperson. Her son has a life-threatening peanut allergy.
Sarah Jessica Parker quits as Mylan spokesperson over EpiPen price hike https://t.co/ZwiydpYkkI

— TIME.com (@TIME) August 26, 2016
Heather Bresch is the daughter of Senator Joe Manchin (D-West Virginia) and reportedly got her job at Mylan because of that relationship in 1992. She moved the company's headquarters to the Netherlands last year, which entailed a lower tax rate.
Last week, Senator Amy Klobuchar (D-Minnesota), whose daughter is dependent on EpiPens, demanded a hearing over the dramatic price hike.