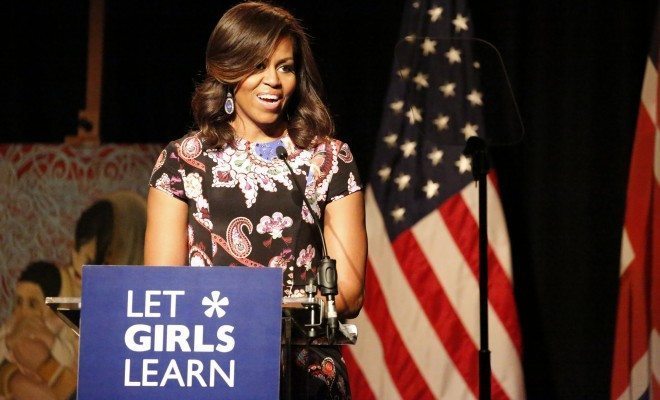 Image courtesy of [DFID--UK Department for International Development]
News
Michelle Obama Takes Education Efforts Global
By
|
Tower Hamlets Mulberry School for Girls in London received a visit from two very special guests on Tuesday. Hundreds of students welcomed former Australian Prime Minister Julia Gillard and First Lady Michelle Obama, while cheering and waving American and British flags. Obama has been very active in charity work, setting an example for many people with her programs such as Let's Move!, aimed at raising a healthier generation of kids, and her Reach Higher initiative which pushes young people from disadvantaged backgrounds to go beyond high school and enter college or undertake professional training. The First Lady has now launched a $200 million program to help girls with their education. Gillard and Obama joined forces this week to talk about Obama's Let Girls Learn program, aimed at helping adolescent girls around the world finish school. Michelle's goal is to "build a healthier family, a stronger community, and a brighter future."
"We can pay forward all of the love and support that our families have poured into us." Michelle Obama… http://t.co/0cOEuQvdJK

— Bisila Bokoko (@BisilaBokoko) June 17, 2015
Obama announced this collaboration between the U.S. and the U.K., sharing her plans to advance education, particularly in countries experiencing crisis and conflict. She has hopes that the $200 million dollar effort will remove hindrances such as school fees, transportation issues, early marriage, pregnancy, and family obligations–all things that prevent 62 million girls around the world from going to school. Gillard, who is now the chair of the Global Partnership For Education, plans to assist this initiative. Gillard stated, "Why would we not want to have the best of the world's talent available to participate in building the world's future." Michelle told the young girls in the audience:
I see a roomful of business leaders and surgeons and barristers. I see women who are going to win elections, and science competitions, and arts awards. I see leaders who will inspire folks not just here in Tower Hamlets, but all across the country and all around the world.
She informed the crowd about current trends that show it will take 100 years before all girls in South Sudan will have the ability to complete a lower secondary school-level education and explained that this is simply not good enough. Her ability to make change happen rather than wait for things to change eventually is certainly admirable. She passionately spoke to the girls, telling them about her upbringing as an African-American girl who worked hard to receive an education with her working class family on the south side of Chicago. When a student asked Obama what inspired her campaign, her response was touching:
Oh, it's you. Didn't you notice how I almost cried? I couldn't get through my speech. It's you. It's your soul, it's your passion. And there are — I can't tell you how many times I interact with young girls like you in every part of the world. And I am always in awe of what you're able to do, what you're able to push through, and how hungry you are for your education; that when given the tools and the opportunity, you run with it.
People are risking their lives in other countries for the sake of education. Yet many of us see education as something that is automatically given to us because we have been in school all our lives. We take it for granted and forget that everyone does not have such amazing opportunities. With an education, people can be unstoppable; there are no limits to the things that can be done. To see someone such as Michelle Obama have passion and truly want to help others is refreshing. The First Lady made sure these girls know to always go after their dreams, despite the circumstances they may be in.