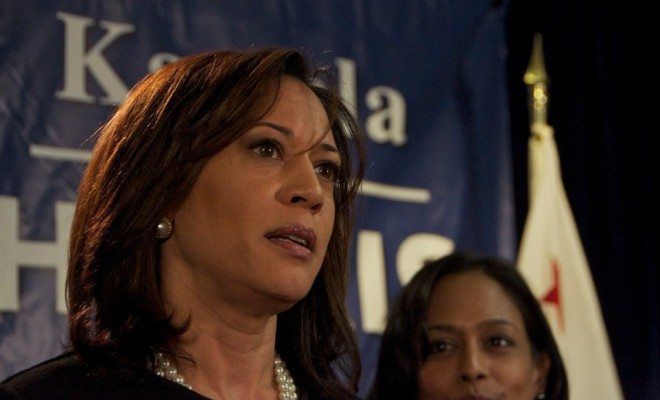 Image courtesy of [Steve Rhodes via Flickr]
News
Kamala Harris Aide in Trouble for Bizarre Pastime
By
|
An aide for Democratic California Attorney General Kamala Harris has been arrested for posing as a police officer while heading a  mysterious "Masonic" police force that he claims dates back 3,000 years.
Brandon Keil, 31, was placed on administrative leave from his position as deputy director of community affairs for the California Justice Department, which Harris heads, after news of the scandal broke. According to the LA Times, the Los Angeles County Sheriff's Department claims that he along with two others, David Henry and Tonette Haye, were arrested last week after suspicions came to light that the trio was illegally impersonating police officers through their roles in the Masonic Fraternal Police Department.
Aide to state AG Kamala Harris , 2 others arrested after allegedly creating fake police force http://t.co/L6AYHtP0b9 pic.twitter.com/mldidpa8t0

— KTLA (@KTLA) May 6, 2015
According to site claiming to be the Masonic Fraternal Police Department's official site, the force claims to have traced its origins back to 1100 BC when it was created by a medieval Christian military order, the Knights Templar. The group claims they have jurisdictions in 33 states and Mexico and that the only difference between them and other police departments is that they "were here first." The site goes on to say,
We are born into this Organization our bloodlines go deeper then an application. This is more then a job it is an obligation.

However it seems like the real police disagreed. The trio first appeared on the police's radar after letters were reportedly mailed to various police chiefs in Southern California announcing that Kiel had been named the police force's "chief deputy director." Kiel apparently even called various law enforcement agencies to schedule in-person meetings, a bizarre move that clearly led to his arrest. The LA Times writes,
Sheriff's Capt. Roosevelt Johnson, who heads the department's Santa Clarita Valley station, met with members of the group and became wary after they could not provide rudimentary information about the group's aims, the officials said.
When sheriff's investigators searched the homes of the three they apparently found badges, weapons, uniforms, and law enforcement paraphernalia.
In January Harris announced she planned to run for Senate in 2016, vying for the seat that will soon be vacated by Senator Barbara Boxer. It's highly unlikely her aide's odd fake-police pastime will affect the Democratic rising star's Senate run, but all this weird negative press is certainly far from ideal.
Featured image courtesy of [Steve Rhodes via Flickr]