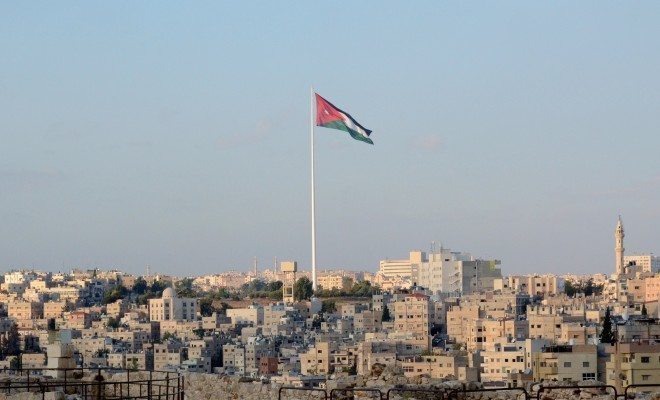 Image courtesy of [t i g via Flickr]
News
Jordan's Negotiations With ISIS Fail: What Does it Mean for the U.S.?
By
|
Much of the world reacted on Tuesday, horrified, as ISIS released a video of a Jordanian pilot burned alive. The pilot was named Lieutenant Moath al-Kasasbeh, a member of the Royal Jordanian Air Force, and only 27 years old. He went missing in December in a mission against ISIS, and was captured by the terrorist organization.
Do not share the monstrous pics of Moath Al-Kasasbeh's death, let's remember the pilot for his smile.. #IAmMoathpic.twitter.com/FqekJBfhdz

— Waleed Abu Nada (@waleedabunada) February 3, 2015
ISIS had threatened his death in a supposed sort-of ransom letter to Jordan: the country could either bring terrorist Sajida al-Rishawi to a given place by January 29, or al-Kasasbeh would be killed. Jordan didn't give in to the demands, saying that it couldn't release the terrorist unless it was sure that al-Kasasbeh was alive, although Jordanian officials talked openly about releasing al-Rishawi under the right conditions. There was a lot of back and forth, and for a time it looked like Jordan's negotiations might be effective. Unfortunately, the terms were never met, and the video of al-Kasasbeh's death was released Tuesday night.
Just a few days before al-Kasasbeh was killed, ISIS killed Japanese journalist Kenji Goto. Like al-Kasasbeh, news of Goto's kiling was released online in video form; however, unlike al-Kasasbeh, Goto was beheaded.
In response to al-Kasasbeh's killing, Jordan killed two prisoners that it held. One was al-Rishawi, the woman whose release ISIS had demanded. She was a would-be suicide bomber who was involved in an attack on a wedding on November 9, 2005. The group she was with killed 58 people, but her vest failed to detonate. The other prisoner was Ziad Karbouli, who used to be an aide to the top al-Qaeda leader in Iraq.
My heart goes out to the families of al-Kasasbeh and Goto–they were sad, horrific casualties of a bloody and terrifying war. But my brain is left with an overwhelming question: what's next? Jordan's attempt at negotiations with ISIS didn't work out, but what does that mean for other nations?
I was relatively young when 9/11 happened–at least young enough that most of my formal education as it relates to international affairs and politics occurred in a post-9/11 world. Since the War on Terrorism began, one of the most fundamental principles has been that we absolutely, under no circumstances, negotiate with terrorists. In the wake of the horrific killings of al-Kasasbeh and Goto, as well as the killing of Americans such as James Foley and Steven Sotloff, the question of what nations should do when their people are taken hostage by ISIS, or organizations like ISIS, is cloudier than it has ever been.
It's by no means simple. First of all, the idea of negotiating with belligerents–not terrorists, necessarily, but state actors, isn't similarly reviled. Wars can end in a few ways, one of which is by reaching an agreement or peace treaty. That seems straightforward enough–we may negotiate with recognized foreign governments, but not with terrorist groups. But remember the fact that until about 100 years ago, nations and their borders weren't as concrete as they are now, and it becomes more complicated–the difference between the leader of a nation and of a group aren't very black and white. Take, for example, the Taliban. When it ruled Afghanistan, was it a terror group, or a government? Or a little bit of both?
The truth is, we've been negotiating with, or at least attempting to negotiate with, terrorist groups for years–remember all the intricacies of the Iran-Contra affair? So, why are we so adamant about the fact that we don't negotiate with terrorists? The Bowe Bergdahl scandal this summer, and the willingness of both sides to slam President Obama over his trade, showed that much of America still staunchly believes in that principle.
I want to be clear here, I'm not saying we should negotiate with terrorists. But I think that the question of how to deal with ISIS is more nuanced than a political buzz-phrase. The negotiations between Jordan and ISIS show just how complicated it really is, and how while the "war on terror" is not necessarily over, a look at our tactics may be in order.