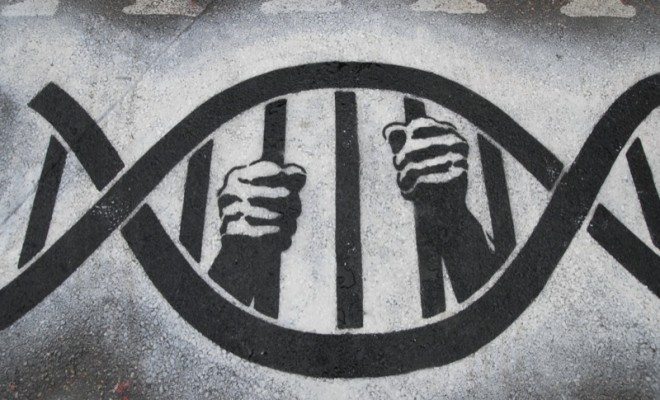 Image courtesy of [thierry ehrmann via Flickr]
News
Idaho Murder Case Raises Concerns Over Crime-Solving Technique
By
|
A 20-year-old Idaho murder case is currently stirring up concerns about police use of private genetic databases and the limitations of controversial familial DNA searches. The controversy is coming to light after a man named Michael Usry was accused of murder after police linked him to DNA found at the crime scene. The catch was that the officers got their lead from the world's largest and most popular for-profit genealogical website.
According to the New Orleans Advocate, gory New Orleans filmmaker Michael Usry became implicated in the gruesome rape and murder of an Idaho woman named Angie Dodge after a genome database owned by Ancestry.com released private DNA information to the Idaho Falls Police Department. The information indicated that Usry's DNA could be a match to semen found on Dodge's corpse.
On June 13, 1996, 18-year-old Dodge was found stabbed in her Idaho Falls apartment. The violent nature of the crime and desecration of Dodge's body led the Idaho Falls Police Department to believe that it was a crime of passion and that she knew her attacker. An investigation and confession led police to charge a man named Christopher Tapp for the murder, but his conviction has has been widely criticized and there have been claims that he was wrongly convicted.
That's where Usry comes in. Decades later police were still concerned that they were never able to match Tapp's DNA to the semen found on Dodge's stomach. Last year investigators turned to the controversial technique of familial DNA testing, which involves identifying potential suspects by analyzing the DNA's Y chromosome and trying to find a family member of the perpetrator. According to the Advocate,
A promising "partial match" emerged between the semen sample and the genetic profile of Usry's father, Michael Usry Sr. — a finding that excluded the father but strongly suggested one of his relatives had a hand in the young woman's murder.
The Sorenson Molecular Genealogy Foundation, a nonprofit purchased by Ancestry.com, had the elder Usry's DNA samples from years ago when he submitted them through a project sponsored by the Mormon Church. What's concerning is that according to the Electronic Frontier Foundation, the DNA samples collected by the nonprofit were only meant to be accessed and analyzed by the "principal investigator and the others specifically authorized by the Principal Investigator, including the SMGF research staff." Despite this, the company shared the samples with the police without a warrant or court order.
This DNA sample obtained by the police reportedly partially matched  Usry Sr., but it also partially matched with 41 other samples in the database. However, police followed the lead from Usry Sr.'s DNA. Despite police being sure they'd finally found Dodge's real killer, when they eventually compared Usry Jr.'s DNA to the sample from the crime scene, they discovered that he was not a match.
The reason why this man's case is so important is because police use of private DNA databases without authorization from the courts threatens all Americans' privacy and civil liberties. The people who submitted their DNA to this company did so under the guise that their information would be protected, but this controversy is proof that that was simply not the case.
This case also adds further scrutiny to the controversial method of familial testing. Fans of familial testing see it as a way to crack unsolvable cases, but the potential discrepancies and large pools of related DNA hardly make it a perfect science. Just a few weeks ago the FBI found itself in similar deep water after it was uncovered that its experts gave flawed forensic testimony in many trials in recent decades. That revelation scrutinized the accuracy of microscopic hair analysis, also said to be an imperfect science.
These cases make it clear that the forensic world could use more advancements to generate greater certainty when it comes to DNA analysis. It also makes you wonder how many innocent people weren't as lucky as Usry and are behind bars because of less than perfect DNA matches.